US trade approves duties on Chinese TV sets
(chinadaily.com.cn)
Updated: 2004-05-16 09:33
A U.S. trade panel gave final approval May 14 to steep anti-dumping duties on more than $276 million worth of color televisions from China. The Chinese TV makers say they are shocked at the ruling and will appeal to the US Court of International Trade if the US International Trade Commission.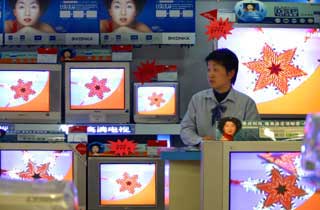 A saleswoman waits for customers at a Nanjing store in this March 3, 2004 file photo. [newsphoto]

The U.S. International Trade Commission voted 5-0 that low-priced imports of 21-inch (52-cm) and larger color televisions from China threatened to harm U.S. producers.

To justify implementing the duties, the commission had to determine that the imports from China materially damaged, or threatened to damage, the domestic industry.

The Bush administration proposed a 78.45 percent anti-dumping duty on nearly $300 million worth of televisions from China.

The vote was the final bolt in the process of imposing the levy which will go into effect by early June until its review in five years, said John Greer, an ITC spokesman.

"Because of various factors, they can have low prices and low prices can bring injury to the United States," Greer said. "This (levy) is nothing special. It's not a gigantic amount of money."

The ITC chairman abstained from voting on the case.

The Chinese color TV makers were shocked by the ruling and expressed their dissatisfaction. Sichuan Chonghong, one of China's major TV makers, says Chinese color TV sets are well received by US customers and dealers, and will join other TV makers to respond to this ruling.

Konka Group, a TV maker in Shenzhen, says it is shocked by and indignant about the ruling, and is considering specific plans to counter the US panel's ruling.

The Chinese TV makers say that the price of Chinese TV sets at the US market is reasonable and the dumping accusation is groundless. They say they are considering to appeal the ruling the US Court of International Trade if the US International Trade Commission.

There is no official response from the Chinese Ministry of Commerce yet.
Today's Top News
Top China News

Selling slapstick by cellphone




US trade approves duties on Chinese TV sets




Report: Rumsfeld OK'd prison program




China's nuke plan lures foreigners




Third 6-party nuke talks to open in June




China launches "2004 Science Week"