US forces kill 21 Iraqis in Baghdad clashes
(Agencies)
Updated: 2004-05-15 23:48
U.S. forces have killed 21 Iraqis and wounded at least 10 in operations in Baghdad in the past 24 hours in an effort to restore stability to the capital, a U.S. military spokesman said on Saturday.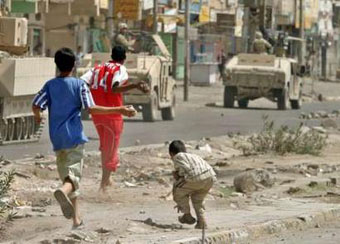 Iraqi Shi'ite youths throw stones at a U.S. military convoy in the center of the most populated Shi'ite district of Al-Sadr city, in Baghdad, May 15, 2004. U.S.-led forces battled insurgents around some of the holiest Shi'ite shrines in Iraq on Saturday. [Reuters]


Brigadier-General Mark Kimmitt, deputy director of operations for the U.S. military in Iraq, said most were killed during operations in the Sadr City neighborhood of northeast Baghdad, where radical cleric Moqtada al-Sadr draws support.

"In the Thawra district (Sadr City), coalition forces continue to conduct offensive operations to restore stability resulting in 14 enemy killed and 10 wounded," Kimmitt told a news conference, saying the toll was from the past 24 hours.

He said there had been a "minor uprising" in several spots, including the southern cities of Nassiriya and Amara, where Shi'ite Muslim militants loyal to Sadr are concentrated, and in Sadr City itself, but said militants had been quelled.

"There was a minor uprising, and the coalition forces handled those and things seem to be much quieter today," Kimmitt said.

In a separate incident, a U.S. patrol in western Baghdad came under fire earlier on Saturday from insurgents using rocket-propelled grenades and small arms, Kimmitt said. U.S. troops returned fire, killing seven people.

In Kerbala, a Shi'ite holy city about 68 miles southwest of Baghdad, Kimmitt said four Iraqi fighters had been killed in fighting between U.S. troops and militiamen loyal to Sadr, who has been leading an uprising against U.S. forces for the past month.
Today's Top News
Top World News

US trade panel approves duties on Chinese TV sets




Banks urged to follow loan policies




Third 6-party nuke talks to open in June




China launches "2004 Science Week"




Bush job approval rate down to 42% in poll




Taiwan's Chen urged to cancel inauguration