Daily Mirror editor ousted over Iraqi abuse photos
(Agencies)
Updated: 2004-05-15 10:55
Piers Morgan, editor of London's Daily Mirror newspaper, was ousted on Friday over publication of pictures of alleged abuse of Iraqi prisoners by British troops that proved to be fake.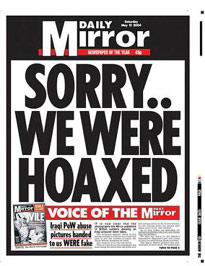 The front page of the Saturday May 15, 2004, edition of the Daily Mirror, made available Friday evening, May 14, 2004. [AP]

"The Board of Trinity Mirror has decided that it would be inappropriate for Piers Morgan to continue in his role as Editor of the Daily Mirror and he will therefore be stepping down with immediate effect," the newspaper said in a statement.

Despite mounting expert criticism of the pictures, and a statement by the Government on Thursday that they were fake, Morgan insisted until the end that his stories of abuse by British troops were accurate.

"The pictures accurately illustrated the reality about the appalling conduct of some British troops," he said.

But on Friday, the newspaper's owners Trinity Mirror threw in the towel and threw out their editor.

"The Daily Mirror published in good faith photographs which it absolutely believed were genuine images of British soldiers abusing an Iraqi prisoner," the statement said.

"However there is now sufficient evidence to suggest that these pictures are fakes and that the Daily Mirror has been the subject of a calculated and malicious hoax.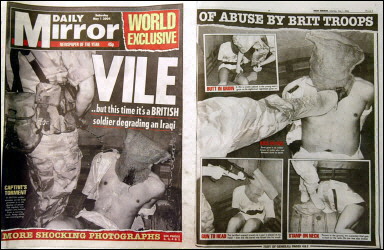 Pictures published by the Daily Mirror appear to show British soldiers abusing an Iraqi prisoner. The Daily Mirror sacked its editor as it admitted that its photos of British soldiers torturing Iraqi prisoners were fake. [AFP]

"The Daily Mirror therefore apologizes unreservedly for publishing the pictures and deeply regrets the reputational damage done to the QLR (Queens Lancashire Regiment) and the Army in Iraq," the statement added.

Morgan's ousting came hard on the heels of a full frontal attack by the QLR, accusing the newspaper of being a recruiting poster for al Qaeda and urging the flamboyant editor to step down.

The Mirror had campaigned vigorously against the invasion of Iraq.

"It's time that the ego of one editor is measured against the life of the soldier," Brigadier Geoff Sheldon told reporters.
Today's Top News
Top World News

Banks urged to follow policies in offering loans




Third 6-party nuke talks to open in June




China launches "2004 Science Week"




Bush job approval rate down to 42% in poll




Taiwan's Chen urged to cancel inauguration




US battles Shiites in Iraq; 5 GIs die