Glamor and controversy at Cannes
(Agencies)
Updated: 2004-05-13 09:22
The 57th annual Cannes Film Festival has opened with strife, star power and a 12-day lineup of the usual mix of glitz, glamor and controversy.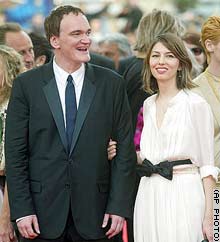 Jury head Quentin Tarantino arrives with Sophia Coppola.

September 11 and the U.S. presidential election hovered in the background as the festival officially opened in the Palais des Festivals on Wednesday evening.

Competing for the Palme d'Or -- the prize for best film -- is Michael Moore's "Farenheit 9/11," a post-September 11 Bush-bashing documentary.

Moore's film has already hit the headlines after Walt Disney Company blocked the distribution of the movie, which is critical of U.S. President George W. Bush. (Moore slams Disney)

The film will be premiering at the festival.(Moore: Film will be seen)

The opening film at the festival, although not in the competition, was also a hot issue.

Spanish director Pedro Almodovar's thriller, "La Mala Educacion," -- a film about sexual abuse in a Catholic school in the 1960's -- opened the 2004 festival, where 18 films are battling it out for top spot.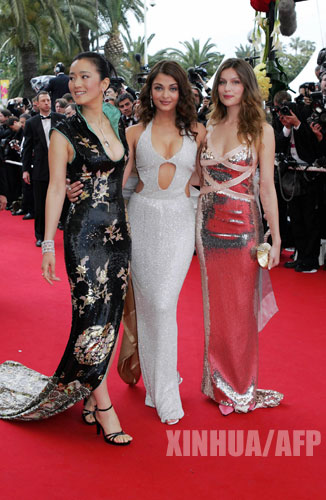 Chinese actress Gong Li, Indian actress Aishwarya Rai and French model Laetitia Casta (L-R) pose during red carpet arrivals on the first day of the 57th International film festival in Cannes, May 12, 2004. Spanish director Pedro Almodovar's Out of Competition film 'Mala Educacion' (Bad Education) is screened on the opening night of the film festival. [Xinhua/AFP]

It was the first time a Spanish film had ever opened the world's most famous film festival.

"My film may not be in competition here but opening the Cannes Film Festival is a prize in itself," Almodovar said.

The event promises an A-list line up of Hollywood stars in spite of a threat of disruption by French stagehands and part-time actors over welfare benefit cuts.

A last-minute deal was made with the event's organizers allowing workers to voice their grievances if they keep the debate out of the festivities.

However, some 200 people staged a protest outside the Palais des Festivals and riot police were called in to keep order.

Other films hitting the screen on the French Riviera are Serbian director Emir Kusturiea's "Life is a Miracle" and "2046" by China's Wong Kar-wai.

Also on offer from Hollywood are "Shrek 2," with an all-star cast led by Eddie Murphy, and a Coen brothers' remake of the classic British comedy "The Lady Killers" starring Tom Hanks.

This year's line-up is seen as more accommodating to mainstream movies, after the festival was slammed last year for showing too many low-budget independent movies.

Out of competition, the swords and sandals epic "Troy," starring Brad Pitt, is being rolled out.

Leading the jury is American director Quentin Tarantino, one decade after winning a Palme d'Or for cult movie "Pulp Fiction."
"If there's another level of heaven, that's where I'm at," Tarantino, whose latest offerings "Kill Bill" parts 1 and 2 are being screened out of competition, said.
Today's Top News
Top Life News

US lawmakers say new abuse photos even worse




Wen pushes for Irish partnership




Separation means dead end for Chen




Corruption's long and winding road




Two more US soldiers face court-martial




Looming grad numbers strain job market