Some Arabs say beheading justified
(Agencies)
Updated: 2004-05-13 09:04
For one Arab living on the West Bank, the beheading of an American hostage in Iraq was a justified response to the treatment meted out to Iraqi prisoners by U.S. troops.
"This was a justified retaliation. The Americans had committed very ugly actions against the Iraqi people in general and Iraqi prisoners in particular," said Mohammed AlBargouti, a 24-year-old security guard in the West Bank city of Ramallah.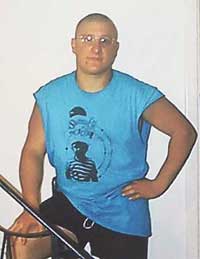 An undated handout family snapshot shows U.S. civilian Nick Berg. The family of Berg, the American civilian worker beheaded in Iraq by Islamic militants, said on Tuesday they were devastated by his death. In a statement read on the lawn of the Berg family's West Chester, Pennsylvania, neighbor and friend Bruce Hauser described Berg, 26, as 'a great kid.' [Reuters]

His view was echoed by many Arabs but others in the region, including Lebanon's Hizbollah guerrilla group, condemned the execution as a crime which flouted the teachings of Islam.

"Hizbollah condemns this horrible act that has done very great harm to Islam and Muslims by this group that claims affiliation to the religion of mercy, compassion and humane principles," the Shi'ite Muslim group said in a statement.

An Islamist Web site on Tuesday carried a video clip of the beheading, with a statement saying a group linked to al Qaeda did it in revenge for the abuse of Iraqis by U.S. troops.

Popular Arab satellite television news channel Al Jazeera just showed the man, who identified himself to the camera as Nick Berg, kneeling on the floor in front of five masked men.

Dubai-based Arab satellite channel Al Arabiya showed video of one of the captors lunging at Berg's neck but later reports just had captors standing behind him reading out a statement.

"That man went to help rebuild Iraq. I am very sad that he was killed but his stupid government put him there...If his family are looking where to put the blame, they shouldn't look further than the White House," Cairo office worker Mansour Mohammed said.

The video tape carried a statement said to be from al Qaeda's leader in Iraq, Abu Musab al-Zarqawi, who said Berg's killing was in reprisal for the abuse of Iraqi prisoners and ridiculed Muslim leaders for their failure to free Iraq.

JUSTIFYING TORTURE

Some Arabs said Zarqawi had failed the very people he said he was avenging by strengthening Washington's hand in Iraq.

"I want to say this action was bad because it makes Arabs look like barbarians but that's what the Americans think anyway. My fear is that now Americans will feel Iraqis deserve the torture," said Mamdouh, an Egyptian pharmacy student who did not want to give his full name.

Zarqawi is believed to have begun operating in Iraq amid the chaos left by the toppling of Iraqi leader Saddam Hussein. He is blamed for suicide bombings against Iraqi and foreign targets.

"What religion or sect condones such a barbaric act? This is abominable, God curse Zarqawi," said Hasan Ahmad Jarallah, 41, a Saudi government employee, who had seen on the Internet the tape of masked men sawing Berg's head off with a large knife and holding it in the air.

Abdulaziz, a Saudi writer who declined to give his last name, said the killing would give Washington breathing space from the furor over abused Iraqi prisoners.

"This hateful act drew attention away from U.S. practices against Iraqi prisoners, which had been gaining more and more importance in the West."

While many thought it an appropriate response to what they see as U.S. abuses against Iraqi civilians, Mutaz, a Syrian taxi driver working in the United Arab Emirates, went further:

"It must have been a beautiful sight. The Americans deserve even more than this for what they are doing in Iraq. Every American should watch this tape to see what is coming to them, or are they the only ones allowed to kill?"
Today's Top News
Top World News

US lawmakers say new abuse photos even worse




Wen pushes for Irish partnership




Separation means dead end for Chen




Corruption's long and winding road




Two more US soldiers face court-martial




Looming grad numbers strain job market