Two more US soldiers face court-martial
(Agencies)
Updated: 2004-05-13 08:59
The military announced Wednesday it will court-martial two more American soldiers, including a man accused of taking part in standing a wired-up prisoner on a box and threatening him with electrocution — a scene displayed in one of the photos that broke open the abuse scandal.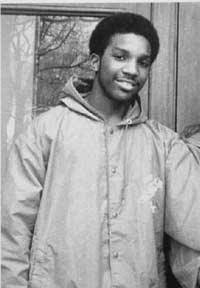 Javal 'Sean' Davis is seen in the Abraham Clark High School 1994 yearbook in Roselle, N.J., May 5, 2004. Sgt. Davis, 26, is one of the U.S. soldiers recently ordered to stand trial in the Abu Ghraib prisoner abuse scandal. [AP Photo]

Brig. Gen. Mark Kimmitt, chief U.S. military spokesman in Iraq, announced that Staff Sgt. Ivan L. "Chip" Frederick II of Buckingham, Va., and Sgt. Javal Davis of Maryland, would face a general court-martial. He said no trial date and venue had been set.

Their families back home defended them, saying the allegations are inconsistent with the men they know.

Another soldier, Spc. Jeremy C. Sivits, of Hyndman, Pa., goes on trial Wednesday in Baghdad before a special court-martial, facing a maximum of a year in jail, a fine and a bad conduct discharge. General court-martials can impose tougher penalties, but Kimmitt did not spell them out.

Davis and Frederick have been charged with conspiracy to maltreat detainees, dereliction of duty for failing to protect detainees from abuse and maltreatment of detainees. Davis also faces charges of assault and giving false official statements, and Frederick is charged with wrongfully committing an indecent act by watching detainees commit a sexual act.

The charge sheet says that in one incident in which Frederick allegedly was involved, a prisoner was made to stand on a box, was attached to wires and was told he would be electrocuted if he fell off. The wires were not connected to a power source.

Frederick was also alleged to have forced naked detainees into a pyramid position and photographing the scene. He was also accused of making detainees masturbate in front of others and forcing one man's face "directly in front of the genitals of another detainee" to simulate oral sex while photographing them.

Davis allegedly forced detainees into a pile "and jumped on" them, the charge sheet said. He was also accused of stepping on prisoners' feet and striking a detainee "in anger."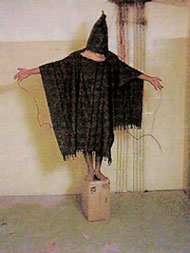 A hooded and wired Iraqi prisoner at Abu Ghraib prison who reportedly was told that he would be electrocuted if he fell off a box, is pictured this undated photo. The abuse scandal at Abu Ghraib prison includes more photographs and videos, U.S. officials said on May 7, 2004. [Reuters]

It said Davis lied when he said he did not intend to step on the detainees' feet and did not strike an inmate in anger.

A report by Army investigators said Davis told of being "made to do various things that I would question morally."

He also told investigators that military intelligence personnel appeared to approve of the abuse. "We were told they had different rules," he told investigators, according to the report.

Before deployment in February 2003, Frederick, 37, was a corrections officer at Buckingham Correctional Center, a state prison in rural Dillwyn, in south-central Virginia. His wife, Martha, also works there.

Frederick's uncle, William W. Lawson, of Newburg, W.Va., said the family expects him to plead innocent although they had not yet heard from him or his attorneys about the court-martial order. He said his nephew "is still in good spirits."

Jo Ann Frederick, of Oakland, Md., learned of her son's court-martial from a reporter. "I had a positive e-mail from him today but at the time he wrote that, I'm sure he hadn't heard that news," she said.

Martha Frederick said she had not yet talked to her husband. "We are still having faith that things are going to work out fine," she said.

The Army report quotes a witness saying he saw Frederick hit prisoners stacked in a pile and hit a prisoner who posed no threat. The witness also reportedly testified he observed Frederick watching two inmates perform a sexual act.

In Frederick's written accounts to his family about conditions at Abu Ghraib prison, he said his job was to prepare prisoners for interrogation and that he was told, "This is how military intelligence wants it done." He said military intelligence officers "encouraged us and told us, 'Great job.'"

Frederick wrote that when he questioned the acting battalion commander about harsh inmate conditions, he was told "to do as he says."

Jonathan Davis said his son, who grew up in New Jersey, is a devout Baptist who always keeps a Bible near him.

Attorney Paul Bergrin said: "Shawn is a great American hero who risked his life and volunteered to go to Iraq knowing he might never return."

"He felt compelled to serve his country based upon 9-11, and the propaganda and political statements pertaining to the state of Iraq," Bergrin told The Associated Press.

Davis, 26, has a 4-year-old son and 10-year-old daughter, and was a high school track star and football player. A reservist for nearly seven years, he has served in Egypt and Bosnia. He grew up in New Jersey and his home is in Maryland. His wife, Zeenethia, is in the Navy.

"We are going to bring forth my son's innocence and expose the real people who are behind this," Jonathan Davis told the AP in Roselle. "They know who they are. I think it goes all the way up to Rumsfeld and the joint chiefs of staff; I really do," the elder Davis said.

At a hearing a few hours before new pictures and videos of abuse were screened for Congress members, Secretary of Defense Donald H. Rumsfeld rejected complaints that military interrogation techniques violate international rules and may endanger Americans taken prisoner.

Rumsfeld told a Senate committee that Pentagon lawyers had approved methods such as sleep deprivation and dietary changes as well as rules permitting guards to make prisoners assume stressful positions.

Gen. Richard Myers, chairman of the Joint Chiefs of Staff, noted that the rules require prisoners to be treated humanely at all times.
Today's Top News
Top World News

US lawmakers say new abuse photos even worse




Wen pushes for Irish partnership




Separation means dead end for Chen




Corruption's long and winding road




Two more US soldiers face court-martial




Looming grad numbers strain job market