Wen pushes for Irish partnership
By Jiang Zhuqing (China Daily)
Updated: 2004-05-12 23:42
Ireland will actively push the European Union to bestow China with complete market economy status by an early date, said Irish Prime Minister Taoiseach Bertie Ahern Wednesday when meeting with his Chinese counterpart Premier Wen Jiabao.
"This (Wen's visit) reflects not only the rapid growth of our bilateral relationship in recent years, but the developing comprehensive and strategic partnership between China and EU,'' said Ahern, who is also the president of European Council as well as holding the rotating presidency position of the EU. "Ireland and China have successfully embarked on a long-term relationship to co-foster co-operation in the economic, cultural and social spheres.''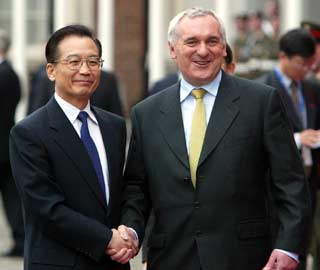 Premier Wen Jiabao is greeted by Irish Prime Minister Bertie Ahern on the first day of his official visit to Dublin May 12, 2004. [Reuters]
Echoing Ahern's sentiments, Wen said that great achievements have been made in recent years on Sino-Irish relations, especially economic and trade partnership. For example, bilateral trading volume reached US$2.34 billion last year, or eight times higher than the figure of five years ago.
To improve Sino-Irish ties, Wen suggested that the two nations should enhance communications through continuous high-level exchanges and the enlargement of political talks and consultations.
China and Ireland are highly complementary economically and enjoy great potential for exchanges and partnerships in such areas as science, technology, education and culture, Wen said.
Statistics indicate that there are about 30,000 Chinese students studying in Ireland, and at the same time more and more Irish people are beginning to learn Chinese. The two prime ministers agreed that the two nations should concentrate their efforts on a number of key sectors, such as educational co-operation, software design, IT and telecommunications, agriculture, livestock farming and the construction industry.
Saying it is "natural'' that the two nations have divergent opinions on some problems due to different social systems, historical backgrounds, cultures and economic development levels, Wen stressed that the two sides should seek appropriate solutions to these problems through dialogues and consultations.
Ahern said that Ireland would firmly abide by the one-China policy as well to make more efforts to strengthen the comprehensive relationship with China, as well as to drive the EU to give China complete market economy status.
Wen expressed gratitude to Ireland's position on the Taiwan issue and also thanked the nation for its efforts enhance Sino-EU relations.
"The geographic distance between our countries is not an issue, and our strategic partnership continues to flourish,'' Ahern said.
After their meeting, the two leaders also appeared at the signing ceremony for a historic tourism agreement, signed by China National Tourism Administration and Ireland's Department of Arts, Sport and tourism. The pact will list Ireland as a tour destination for Chinese citizens.
"This agreement represents a milestone for the Irish tourism industry. It has opened the door to a market that commentators expect to become one of the largest tourism markets in the world,'' said the Irish department's head John O'Donoghue, who is participating in the Ireland-China Cultural Festival in China.
Premier Wen arrived in the Irish capital on Tuesday for a two-day official visit as part of the last leg of his five-nation European tour. He is scheduled to meet with Irish parliamentary leaders and Irish President Mary McAleese before departing for Shannon in western Ireland.
Wen's European five-nation tour, the first since he took office last year, has already taken him to Germany, the EU headquarters in Brussels, Belgium, as well as Italy and Britain. He is scheduled to leave Ireland for Beijing on Wednesday evening.
Today's Top News
Top China News

One-China policy only option for Chen




Wen pushes for Irish partnership




Scaffolding collapse kills 21 in Henan




Microsoft warns of 'important' Windows flaw




Sports bureaux take blame for lottery fraud




Bubbles from 'stir-frying' houses