Exit poll: Arroyo wins Philippine election
(Agencies)
Updated: 2004-05-12 09:38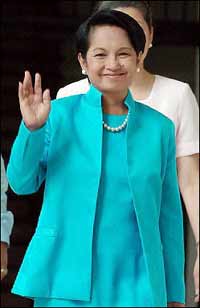 Philippine President Gloria Arroyo smiles at Malacanang Palace in Manila. Arroyo was set for six more years in office after a major exit poll predicted an overwhelming victory in bitterly-contested national elections. [Reuters]

Philippine President Gloria Arroyo was set for six more years in office after a major exit poll predicted an overwhelming victory in bitterly-contested national elections.

US-trained economist Arroyo won 41 percent of the vote in Monday's election compared to 32 percent for her main challenger, film star Fernando Poe, the Social Weather Stations group said Tuesday.

The poll said 81.5 percent of the Southeast Asian nation's 43.5 million voters took part, giving Arroyo victory by over three million votes. The poll questioned 4,627 voters and the margin of error was 1.5 percent.

Analysts said that if the poll results were borne out in the final count, not expected for nearly a month, Arroyo would have a clear mandate to govern a country split by a dirty and acrimonious election campaign.

"That's a mandate," said Antonio Gatmaitan, head of the Political Economy Applied Research Foundation. He described SWS, which has accurately predicted previous elections, as "very credible".

The presidential election was only the third in the mainly Roman Catholic country since the downfall of dictator Ferdinand Marcos 18 years ago, and was marred by vote-buying, missing voter lists, intimidation and violence.

At least 114 people were killed during the campaign which was characterised by mudslinging and allegations that elements within the armed forces were plotting a coup if their favoured candidate lost.

An Arroyo victory would be greeted with relief by the Philippine business community which views Poe, who left school at 15 and has no experience of government, with deep misgivings.

The Philippine stock market slid nearly three percent Tuesday and the peso dipped against the US dollar on election uncertainty. The markets closed before the exit poll was released.

The Poe camp earlier Tuesday accused Arroyo of trying to rig the vote count and alleged abuses including vote-buying and power black-outs aimed at sowing confusion during the count.

Several thousand Poe supporters gathered in front of the stock exchange in Manila's Makati financial district late Tuesday chanting "Gloria Cheat" as a contingent of riot police stood guard.

An opposition statement said: "The widespread irregularities could throw into doubt the validity of the election results in many parts of the country."

However Arroyo said voting was "generally peaceful, orderly and clean".

"All must now conduct themselves with prudence, sobriety and respect for the democratic process," she told reporters.

The election battle between Arroyo, 57, a key Asian ally of the United States, and Poe, 64, was bitter.

Poe ran on his film star reputation as "Mr Clean" and tapped into anger among many poorer voters over the toppling of his friend, ex-president Joseph Estrada, in a military-backed uprising in January 2001.

Then vice president Arroyo was propelled to the top job after Estrada's arrest on corruption charges, and an election victory would give her a first legal mandate to be president.

The exit poll also said Arroyo's running-mate Noli de Castro would win the election for vice president with 47 percent of the vote compared to 39 percent for opposition candidate Loren Legarda.

Editorials in leading newspapers were withering in their criticism of the election. The Philippine Inquirer described the polls as "Crazy". "The detritus of democracy," said the Manila Times and "Scandal", said the Philippine Star.

Most criticism was reserved for the Commission on Elections after registration lists were found to be incomplete and items such as ballot boxes failed to reach many polling stations.

"The Commission of Elections had three years to prepare. Instead of poll modernization however, the nation got a scandal," the Philippine Star said.

The Philippines was once one of the richest countries in Asia, but half a century of instability has made it one of the poorest with around half the 84 million population living in poverty.
Today's Top News
Top World News

Price drop indicates economy cooling down




Killers: Beheading avenges prison abuse




Premier: Taiwan legislation to be studied




US$1.5b in contracts signed in London




Olympic venues open to global bids




China's first frozen egg baby born