US$1.5b in contracts signed in London
By Meng Yan (China Daily)
Updated: 2004-05-11 23:06
In a footnote to growing Sino-British trade, companies from both countries signed contracts worth more than US$1.5 billion Tuesday. Britain's leading energy business BP alone signed four contracts worth more than a billion dollars, which will deepen its presence in the growing Chinese energy market.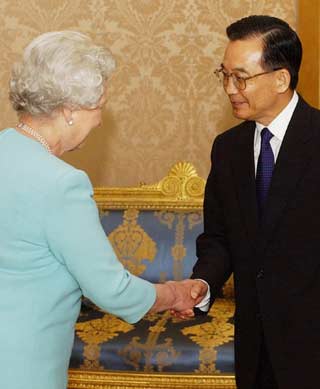 Britain's Queen Elizabeth (L) greets China's Premier Wen Jiabao at Buckingham Palace in London, May 11, 2004. [Reuters]
Among the contracts signed:
* BP and PetroChina will spend US$577 million to develop retail petrol stations project in Guangdong Province;
* BP and Sinopec will spend US$250 million in retail gasoline stations in Zhejiang Province;
* BP and Sinopec joint venture project will use US$120 million to develop the Nanjing Acetic Acid Plant;
* BP and Fu Hua Group will put US$366 million towards Phase II of the Zhuhai Purified Teraphthalic Acid (PTA) project;
* Shell and Sinopec have earmarked US$200 million towards the Jiangsu Province retail gasoline stations project; and
* Kingfisher, B&Q (China) and Midea Group will put US$75 million towards a strategic purchase frame agreement.
"China, as one of the most rapidly expanding economies, offers significant opportunities for the BP Group, particularly its customer-facing businesses," said Lord Browne, chief executive of BP.
"We have already demonstrated the benefit of combining our experience in operating world-class retail service stations and our world-leading petrochemicals technology with the local market knowledge of Chinese partners and we look forward to expanding this through new projects in the future," he said.
The retail projects signed by BP with PetroChina and Sinopec represent the first entry into the retail market for large multinational energy companies, according to Gary Dirks, president and chief executive of BP China.
"The other two chemical projects are a continuation of business we already started, continuing to build on the success we already have," Dirks said.
"These projects represent the years of work between BP and our partners and especially with the Chinese Government both locally and centrally. It represents a big step forward for the business we have in China," he added.
The United Kingdom is currently China's largest European investor. There are now some 3,000 British joint ventures in China with BP, Shell and B&Q (China) amongst the biggest UK players.
The joint venture set up between Shell and Sinopec in East China's Jiangsu Province expects to have a network of about 500 service stations operational within three years of the establishment of the joint venture company, according to Sinopec sources.
"Incorporating the strengths of both partners, the joint venture will provide clean fuel and first-class service to consumers in Jiangsu and fuel economic development," said Chen Tonghai, president of the Sinopec Group and CEO of Sinopec Corp.
Rob Routs, group managing director of Shell said this project represents a major change in Shell's retail presence in China.
Zhang Hechuan, vice-chairman of board of directors of Guangdong Midea Holdings Co Ltd, said their co-operation with Kingfisher would greatly help push its overseas market, particularly in Britain and other European countries.
Midea exported products worth US$500 million last year, with 35 exported to Europe this year. Zhang said the aim is to export US$800 million worth of home appliances to its overseas market, with at least 40 per cent of which to Europe.
"This project will consolidate the collaboration between British retail industry and Chinese manufacturing industry," he added.
"The contract is important in itself and an important symbol of whether we want to do business with Chinese suppliers," said Gerry Murphy, chief executive officer of Kingfisher International, noting that Midea is an important supplier to their businesses in Europe.
"It is important to us that our suppliers are of significant scale, that they produce products that are safe to use, safe to the environment and in safe factories. We could be more effective achieving that by working with big established suppliers who would invest in the long-term business with Kingfisher," Murphy said.
Minister of Commerce Bo Xilai, who is now accompanying Premier Wen Jiabao in his European visit, and Patricia Hewitt, secretary of state for trade and industry officiated at the contract signing ceremony organized by UK Trade & Investment, a British government organization that supports UK companies in overseas business.
"This is an excellent example of the increasingly close relationship between the two countries. I am glad to see the continuing consistent growth in the Chinese economy and China's progress in fulfilling its WTO commitments," said Hewitt.
Today's Top News
Top China News

Premier: China will consider Taiwan reunification law




Price drop indicates economy cooling down




US$1.5b in contracts signed in London




FM calls for `reasonable expectations'




Olympic venues open to global bids




Incompetent officials face tougher scrutiny