Chechen future uncertain as leader buried
(Agencies)
Updated: 2004-05-11 11:00
The leader of Russia's restive Chechnya region was buried Monday, the day after an assassination that shook President Vladimir Putin's plans to tame rebellion he sees as a threat to the fabric of his country.
Thousands of mourners attended the funeral of President Akhmad Kadyrov, an ex-Muslim cleric central to Putin's bid to pacify mainly Muslim Chechnya but viewed by rebels as a traitor. Security appeared tight at the ceremony at his home village, Tsentoroi.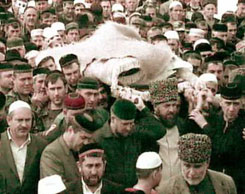 Mourners surround the body of assassinated Chechen leader Akhmad Kadyrov during his funeral in his home village of Tsentoroi, May 10, 2004 as seen in this Russian television image. [Reuters]

Kadyrov was killed with six others by a bomb blast at a World War II victory ceremony in a stadium in the regional capital Grozny Sunday. The bomb was planted under the VIP stand where top Russian and Chechen officials had gathered.

Kadyrov, 52, once a leading figure among the separatists, ruled Chechnya with an iron fist and was increasingly taking over powers from his Kremlin masters, negotiating with moderate rebels and suppressing opposition among rival clans.

As mourners flooded tightly guarded roads to attend the funeral in Tsentoroi some 30 miles from Grozny, Russian officials insisted the security situation was under control.

Television pictures showed heads of neighboring Russian regions and many Chechen dignitaries at a mourning ceremony, but Moscow sent no senior officials to attend it.

Russian and Chechen officials blamed rebels for the assassination. But rebel leader Aslan Maskhadov, in an interview with the rebel news agency Chechenpress, denied any involvement. Russian news agencies quoted investigators as saying they were still trying to determine how a bomb could be planted in tight-security VIP area and who triggered the explosion.

Deputy Prosecutor General Sergei Fridinsky denied media reports Sunday about first arrests. He told Interfax news agency: "Noone was officially arrested and there are still no suspects in the case."

RUSSIA CONFIDENT

"In general the situation in the republic is under the control of law-enforcement bodies and federal forces," Interfax news agency quoted the newly appointed Russian commander in Chechnya Colonel-General Mikhail Pankov as saying.

Pankov's predecessor, Colonel-General Valery Baranov, was badly injured, but officials said he was feeling better after surgery. More than 60 people were wounded.

Despite confident noises from officials the situation looked bleak for Putin's plans to establish an effective authority there that would eventually snuff out the separatist rebellion.

"Kadyrov's death has left a political vacuum in Chechnya," Russian parliamentary deputy Ramazan Abdulatipov said.

The defection of Kadyrov from the rebel cause was a coup for Putin, who sent troops in 1999 to end short-lived independence.

"It was clear the region would not accept a leader fully loyal to Moscow from the start," added Abdulatipov, who had negotiated Kadyrov's defection.

Putin, and President Boris Yeltsin before him, has argued that any flourishing of separatism in Chechnya posed a danger to the territorial integrity of Russia -- a vast, sprawling federation that embraces 200 ethnic groups. Russians see in the breakup of the Soviet Union a lesson that cannot be ignored.

Kadyrov's moves to get rid of power rivals with Moscow's heavy-handed help devastated Chechnya's political landscape, leaving few potential successors of quality for Putin to choose.

For the past four years his main political rivals had been kept out of Chechnya, losing touch with voters and their power base in the republic.

Under strong Moscow pressure they withdrew before October presidential polls to make sure Kadyrov got his landslide win.

Two hours after Kadyrov's death, Putin met his son Ramzan in Moscow, fueling rumors the head of Kadyrov's security forces -- accused by opponents of involvement in human rights violations and kidnappings -- could be handed the hot job.

These rumors strengthened Monday, when Ramzan was appointed first deputy head of the regional government.
Today's Top News
Top World News

China, Britain push for stronger relations




Taiwan recount to settle vote dispute




China denies plan of administrative remap




Tornado pummels Guangdong areas, kills 6




Red Cross: Iraq abuse routine, systematic




Pedestrians obey laws or pay up