75% Chinese students learn sex through porn
(Xinhua)
Updated: 2004-05-11 09:31
A survey by a 17-year-old boy unveiled that 75 percent of middle school students in his area learned about sex through porn publications or videos, a Hainan newspaper here said.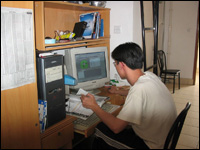 Sufficient sex education at schools seems quite crucial for students' growing-up. [file photo]

The results were disclosed on Sunday at the technical innovation contest for young people which opened in Haikou, capital of China's southernmost province of Hainan, according to the Haikou-based Nanguo Dushi Newspaper.

Wu Jie, a tall and slim boy, is a senior grade-two student of the Nada No. 2 Middle School, in Danzhou City. Wu said he was grateful to his father for giving him a proper sex education when he was growing up. But he found many fellow students gained sex information through improper ways and mulled conducting a survey by issuing questionnaires. His idea was supported by his teachers and parents.

Between March 10 to March 13, Wu sent 800 questionnaires to students and students' parents of three local middle schools and to doctors of hospitals near the schools.

The three schools are Wu's own school, the Nada Middle School and the Danzhou Ethnic Middle School. Wu finally collected 644 completed questionnaires.

Based on information provided by the questionnaires and analysis, Wu found that sex education for middle school students was weak. The overwhelming majority, or 90 percent of surveyed students, hoped that schools would open sex courses, while 90 percent of parents avoid giving sex knowledge to children.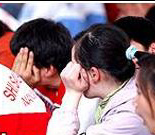 In this circumstance, 75 percent of middle schoolg students ained sex information through porn books or porn websites. When asked for advice, many students hoped that authorities would increase the crackdown on "porn culture."
Doctors surveyed responded that the lack of sex education is likely to cause teenage pregnancy and some said they had treated students contracting sexual diseases, most of whom were between 16 and 18.
Wu suggested that schools offer proper sex education as soon aspossible and parents take responsibility in guiding children to learn sex in a healthy and scientific way, and the government should launch harsh battles against "porn culture."
Today's Top News
Top Life News

Premier: China will consider Taiwan reunification law




Taiwan recount to settle vote dispute




Tornado pummels Guangdong areas, kills 6




China denies plan of administrative remap




Pedestrians obey laws or pay up




Red Cross: Iraq abuse routine, systematic