Pedestrians obey laws or pay up
By Wang Zhenghua (China Daily)
Updated: 2004-05-11 08:55
Pedestrians in Southwest China's Sichuan Province have some serious thinking to do before crossing roads on a red light at crosswalks. With a new regulation put in place by Sichuan traffic authorities this month, pedestrians face fines of up to 20 yuan (US$2.4), or four times the previous amount.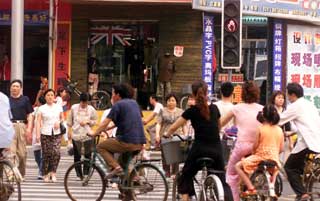 Many pedestrians and bike riders fail to obey the new road traffic safety law that entered into force May 1. This photo shows pedestrians cross the street when the red light is on. [newsphoto]

In keeping with the Law on Road Traffic Safety that took effect around the country this month, the new regulation put forward by the Sichuan Traffic Police General Brigade specifies a dozen violations that affect pedestrians.

Among them are crossing roads without using designated crosswalks, overpasses or underpasses, or other facilities specifically designed for pedestrians; wearing roller skates or using skateboards on roads; and getting in the way of on-duty police cars, fire engines, ambulances and other emergency vehicles.

Meanwhile, the new regulation details a minimum fine of five yuan (60 US cents) for the 12 violations.

"Our local regulation totally abides by the Law on Road Traffic Safety," a general brigade official told China Daily in a telephone interview on Sunday, adding that they had adopted a relatively lenient systems so far for pedestrians.

The Law on Road Traffic Safety is believed to give more priority to pedestrians.

It states that if there is a car accident involving a pedestrian or non-motorized vehicle, the driver of the car is responsible.

Motorists' responsibilities can be alleviated only if the accident was clearly caused by the pedestrian or non-motorized vehicle or the pedestrian violated the law and the driver had taken necessary measures but still could not avoid hitting the person.

While the regulation mentions pedestrians' responsibilities, it is still trying to protect them, since they are the most vulnerable road users, said sources.

Before, motorists were totally free from responsibility if the motor vehicle had not violated traffic rules, in line with local regulations in cities, such as Shanghai and Shenzhen.

First driver permanantly banned from driving

China's new road safety law came into effect in May. And on Monday, the first driver in Beijing received probably the most strict punishment under the new law.

The Beijing driver, surnamed Li, ran away after his car hit a passerby on May 3. After the hit and run, the victim died, and Li was arrested 15 hours later.

According to the new law, drivers who are guilty of hit and run accidents will be banned from driving permanently.

After a lot of debate among experts and the public, the ruling was delivered.

"He will be banned from driving all the rest of his life. Before the new road safety law came out, he would only be deprived off his driving license."

After hearing the ruling, Li expressed nothing but his deep regrets.

"I didn't know what I was doing at that time. My mind just went blank. But I never expected I would receive such severe punishment."

Nationwide several other drivers will receive the same punishment for hit and run accidents.

Today's Top News
Top China News

China, Britain push for stronger relations




Taiwan recount to settle vote dispute




China denies plan of administrative remap




Tornado pummels Guangdong areas, kills 6




Red Cross: Iraq abuse routine, systematic




Pedestrians obey laws or pay up