China denies plan of administrative remap
(Xinhua)
Updated: 2004-05-11 08:52
It is a "seriously" inaccurate report to say China will set up 50 provinces, an official with the Ministry of Civil Affairs told Xinhua on Monday.
Dai Junliang, director of the Department of Administrative Divisions and Place-Name under the Ministry of Civil Affairs, made the remark in response to some recent media reports, both at home and from abroad, saying that China will divide its present provinces, municipalities and autonomous regions into 50 provincial-level administrative regions.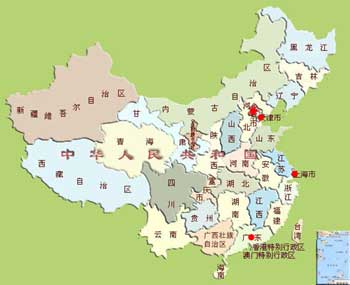 A map shows China's administrative division.

In recent years, voices of calling for a reform in China's division of administrative regions could always be heard in the country, Dai said. Last year, a mainland newspaper carried such a "50 provinces" report, saying that it was from a speech by Dai himself.

"In fact, the reporter who wrote this story has never interviewed me. So far, we haven't met each other or had any telephone conversation," said Dai. "I don't know where his story came from."

In a recent interview with a Hong Kong-based newspaper so as to clarify the truth, Dai said that it is reasonable for China to set up 50 or so provincial-level administrative regions when taking into consideration China's territory and population.

Meanwhile, Dai said that it is unrealistic at present for China to divide its existing provinces in a large scale, given China's actual conditions. It will not only affect the social stability but also increase the cost in administrative management, so China will not take such an action in the near future, Dai said.

However, some mainland media organizations, in order to attract readers, still carried reports saying that China will set up 50 provinces, Dai said regrettably.

"I again solemnly declare that it is a seriously inaccurate report that China will set up 50 provinces," Dai noted. "I hope the public will not believe such rumors."

China has now 32 provinces, municipalities and autonomous regions and two special administrative regions, namely, the Hong Kong Special Administrative Region and the Macao Special Administrative Region.
Today's Top News
Top China News

Premier: China will consider Taiwan reunification law




Taiwan recount to settle vote dispute




Tornado pummels Guangdong areas, kills 6




China denies plan of administrative remap




Pedestrians obey laws or pay up




Red Cross: Iraq abuse routine, systematic