`Killer' milk powder suspects nailed
(China Daily)
Updated: 2004-05-11 01:13
Some two dozen people suspected of producing or selling substandard milk powder that is alleged to have caused the deaths of 13 infants in East China's Anhui Province were formally arrested on Sunday.
Another 23 suspects involved in the counterfeit powder incidents were also detained by police in Fuyang, a city in Anhui, where the first fake formula case was laid bare.
Meanwhile, several other areas in the country -- where low-quality powders have been reported -- are cracking down on powders with little or no nutritional value.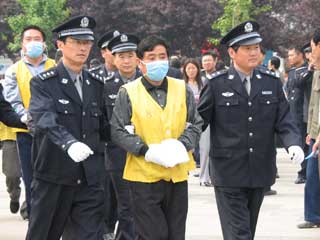 Suspsects involved in making and selling fake infant formula milk powder are escorted away after they were officially arrested in Fuyang, Anhui Province May 9, 2004. [newsphoto]
To date, four hideouts for producers and marketers of fake milk powders have been shut down in Fuyang alone, with some 1,950 boxes of substandard powder worth around 265,000 yuan (US$32,000) confiscated and burnt by police through Sunday.
Officials also dispatched 30-some working teams to Hebei, Shandong, and Zhejiang provinces to locate the sources of the shabbily produced products.
Experts note that imposing penalties on illegal manufacturers and wholesalers is only the first step in combating such food fraud, and far from enough.
"The relevant supervisory departments, which allowed the fake products prevalent in markets for such a lengthy time, should also be held responsible," said Ying Songnian, a judicial commissioner with the National People's Congress, voicing concerns of many consumers.
In addition, the low quality milk powders have been found in many other areas, including Beijing, the provinces of Sichuan, Shaanxi, Jiangsu, Hebei, Hunan, Yunnan, and Guangdong.
Officials are busy checking local dairy markets.
Taking Southwest China's Sichuan Province as an example, local authorities cracked down on more than 40,000 kilograms of fake milk powders in 48 categories last week, and they promised to take actions against suspected suppliers.
The investigation also found that a large number of illegal manufacturers lie in the Northeast China's Heilongjiang Province and North China's Inner Mongolia Autonomous Region.
Today's Top News
Top China News

Nations push for stronger relations




Taiwan recount to settle vote dispute




New national land plan seeks better use




Officials meet for new 6-party talks




`Killer' milk powder suspects nailed




Inspection groups to supervise officials