Anhui SARS patient leaves hospital
(China Daily)
Updated: 2004-05-11 01:13
No new cases of SARS were reported on the Chinese mainland Monday, according to the Ministry of Health.
Meanwhile in Anhui Province, the first confirmed SARS (Severe Acute Respiratory Syndrome) patient was discharged from hospital in the morning, amid best wishes from relatives and colleagues.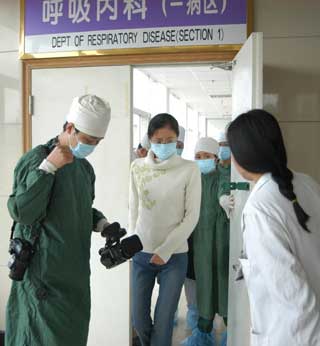 OUT OF ISOLATION: The first confirmed SARS patient, surnamed Song (center), in east China's Anhui Province walks out of hospital ward after recovery May 10, 2004. Song, a medical postgraduate, was diagnosed a SARS patient on April 23. Doctors said Song has recovered and is in good health. [newsphoto]
The patient, a medical postgraduate student surnamed Song, shook hands with leaders of the Anhui University of Medical Science where she studies, and waved to the waiting crowd after walking out the ward.
Zhu Qixing, president of the hospital attached to the medical university, said Song has recovered and is in good health.
She had met all the requirements for being discharged.
Before the SARS patient walked out of the isolated ward, she changed all her clothes and underwent a thorough disinfection, Zhu added.
Between March 7 and 22, Song was studying at a Beijing-based research institute of virus diseases under the Chinese Centre for Disease Control and Prevention (CDC). When she went back to Hefei, capital of Anhui, by train on March 23, she felt ill and had a fever. After medical treatment, she felt better, but the fever remained high. She was diagnosed with SARS on April 23.
Hospital doctors treated her with a therapy that combines Western medicine with traditional Chinese medicine.
Zhang Xuejun, a Ph.D. Holder and president of the Anhui University of Medical Science, said Song already had the SARS virus antibody and all the SARS virus in her body has been neutralized, which means she will not pass on the diseases to others.
The school has made arrangements for Song's study and life on campus, he said.
According to the local health department, all 154 people Song had contacts with have undergone medical observation and no abnormal symptoms have been found.
According to the Ministry of Health, so far there are six SARS patients hospitalized in Beijing's Ditan Hospital. Among them the patient surnamed Zhang remains in serious condition due to previous diseases, and the others continue to recover.
Meanwhile, 26 people in Beijing were removed from medical observation on Monday. So far none of the 747 people the SARS patients had close contacts with have developed any abnormal symptoms, the ministry said.
Today's Top News
Top China News

Nations push for stronger relations




Taiwan recount to settle vote dispute




New national land plan seeks better use




Officials meet for new 6-party talks




`Killer' milk powder suspects nailed




Inspection groups to supervise officials