China, Britain push for stronger relations
By Meng Yan (China Daily)
Updated: 2004-05-10 23:34
China and Great Britain and Northern Ireland Monday achieved new high-level ties by upgrading their relations to a comprehensive strategic partnership with key priorities for continuing bilateral co-operation.
Visiting Premier Wen Jiabao and Prime Minister Tony Blair pledged to work together to develop the nations' partnership to benefit their people and to create a safer, more prosperous and open world, according to a China-UK joint statement issued Monday.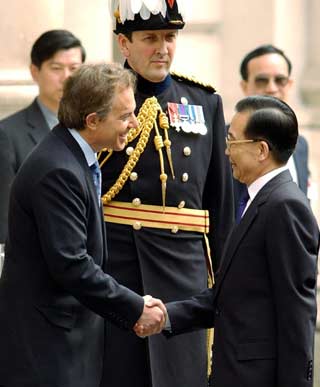 Premier Wen Jiabao (Right) shakes hands with British Prime Minister Tony Blair as Major General Sebastian Roberts (centre) watches ahead of an honour guard inspection at the Foreign Office in London May 10, 2004. [Reuters]
"Sino-British relations will advance forward so long as we treat each other on the basis of mutual respect, equality and mutual benefit to create a win-win situation," Wen said when he and Blair met with journalists after the two leaders spoke.
Blair said the co-operation between the two countries is strong across a range of issues, economically and politically.
The two sides Monday signed a number of documents on bilateral co-operation, ranging from a crackdown on illegal immigration, to science and technology, to education and joint-ventures in petroleum and chemicals.
Wen and Blair also said the nations will work closely on international economic problems to promote sustainable development.
Government leaders and foreign ministers of the two countries will exchange annual visits to reinforce and extend political co-operation in fields such as strategic security and non-proliferation.
Blair is expected to visit China next year to initiate the annual summit between prime ministers of the two countries.
Both said they look forward to continuing high-level dialogue at summits between China and the European Union (EU) later this year and the next. The United Kingdom will assume the EU presidency in 2005.
Following Tony Blair's visit to China last year, both sides decided to establish task forces to facilitate bilateral trade and investment, finance, energy, education and culture, science and technology, the environment including climate change, and sustainable development.
Wen and Blair Monday agreed to further promote such co-operation in a range of areas in trade and investment through the Joint Economic and Trade Commission in line with the recommendations of the task forces.
The task forces suggested that bilateral collaboration give priority to finance, energy, information and communication technology, health care and water resources, along with developing programmes within industry to generate positive business outcomes.
The two sides will also increase co-operation in the areas of science, technology, education, culture and environmental protection in line with task force proposals.
Wen and Blair also discussed issues relating to the Hong Kong Special Administrative Region. Both men reaffirmed their commitment to the implementation of the Joint Declaration between China and the United Kingdom on the issue of Hong Kong.
They agreed that it is in the interests of both sides to maintain and promote Hong Kong's prosperity and stability in accordance with the "one country, two systems'' principle and Basic Law.
Blair reaffirms position on HK, Taiwan
Blair reaffirmed the British Government's consistent position on the question of Taiwan as set out in the China-UK Joint Communique of 1972, in which Britain acknowledged the Chinese position on Taiwan as a province of the People's Republic of China and recognized the government of the People's Republic of China as the sole legal government of China.
The two countries pledged to continue their human rights dialogue on the basis of equality and mutual respect. The next round of the talks will take place this month. The UK side said it welcomes the recent addition of respect and protection for human rights to the Chinese Constitution.
On international co-operation, both vowed to increase co-ordination to promote reforms in the United Nations to ensure greater respect for the UN Charter and international law.
The two sides committed themselves to expanding co-operation within the framework of UN peacekeeping. Wen said China would like to strengthen consultations with the UK including issues on the Middle East and Iraq.
Both men reiterated their determination to combat terrorism and promote weapons non-proliferation. They will launch a China-UK anti-terrorism dialogue. The UK also welcomes China's leading role in the Six Party Talks on the Korean peninsula nuclear issue.
The two countries will intensify exchange and co-operation in security, arms control, and disarmament and non-proliferation areas, according to the joint statement.
China and the UK Monday reaffirmed their commitments to work together to combat illegal immigration by signing a Memorandum of Understanding on the Facilitation of Legitimate Travel and co-operation to Combat Illegal Immigration. They also endorsed closer police co-operation to crack down upon transnational crime.
The two countries pledged to enhance co-operation on international economic problems and to promote sustainable development as well. The joint statement says both are committed to international trade liberalization and will continue to advance the Doha Development Agenda negotiations and they will work towards reaching a framework agreement this year.
Noting the importance of effective protection of intellectual property rights in fostering foreign investment and creating a positive business environment, each side agreed to enhance mutual co-operation on protection of IPRs.
China and the UK reiterated their support for the UN Framework Convention on Climate Change and urged parties that have not yet ratified the Kyoto Protocol to do so as soon as possible.
Both Wen and Blair were later present at a seminar on contemporary economic restructuring from the Chinese and British social and economic perspectives. The event was jointly hosted by the Chinese Academy of Social Sciences and the British Foreign Policy Centre.
The Chinese premier Monday also met with Michael Martin, the speaker of the House of Commons.
Wen attended a seminar on how to revitalize China's old Northeast industrial base. He was also present at the launching ceremony of a Sino-British website on commercial co-operation.
Today's Top News
Top China News

China, Britain push for stronger relations




Taiwan recount to settle vote dispute




New national land plan seeks better use




Officials meet for new 6-party talks




`Killer' milk powder suspects nailed




Inspection groups to supervise officials