Violence, cheating flare as Filipinos vote
(Agencies)
Updated: 2004-05-10 14:17
Violence marred elections in the Philippines on Monday as voters chose between President Gloria Macapagal Arroyo and a famous film star to tackle corruption, insurgencies, dire poverty and a struggling economy.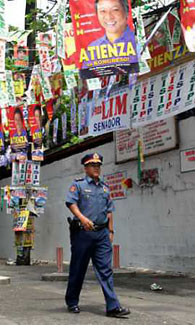 A Filipino police officer patrols underneath election posters on the eve of general elections in Manila May 9. About 43 million Filipinos will select a president, a vice president and 17,000 other government officials at all levels in elections Monday.[Reuters]

At least 20 people were killed just before polls opened across the archipelago, where thousands of powerful local posts are also up for grabs. Bombs exploded in several rural areas.

"I am praying for peace and unity in our country," Arroyo said after voting on a steamy tropical morning in her home province of Pampanga, north of the capital.

Opinion polls show Arroyo, a close ally in the U.S.-led war on terror, beating action movie hero Fernando Poe Jr by six or seven percentage points. Three other presidential hopefuls are expected to split about a third of the ballots.

"I do not see major change after this election but still I am hoping for the sake of my little boy," Rocky Gazizto said at a polling station in Poe's hometown of San Juan, south of Manila.

Arroyo, 57, a U.S.-trained economist and daughter of a former president, has the support of big business, charismatic Christian groups and much of the political elite.

Poe, 64, who left school at 15, inherited the poor supporters of deposed president Joseph Estrada. He was also backed by Imelda Marcos, the widow of dictator Ferdinand Marcos, whose two-decade rule ended in 1986 in the first of two "people power" uprisings.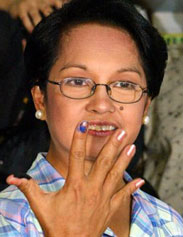 Philippine President Gloria Macapagal Arroyo shows her fingers with indelible ink to prove that she has voted for the country's national elections, May 10, 2004. [AP]

Cheating, a 12 percent bloc of undecided voters and security threats are wild cards that make the outcome far from certain in this mostly Roman Catholic country of 82 million people.

"I'm concerned about the poor, education," said driver Gerry Guichapin in Cotabato City on the restive southern island of Mindanao. "And I hope whoever is elected can give us more jobs."

About 230,000 soldiers and police are on red alert after warnings of attacks by Islamic militants, even though feuds between candidates and clashes with communist rebels caused most of the 100 deaths during the 90-day campaign.

Police said they killed seven armed men from an unidentified political group in a northern province on Sunday, while a campaign aide was shot dead on Monday in central Cebu.

Six people were killed in ambushes in Mindanao, where several Muslim rebel groups are fighting for an Islamic state.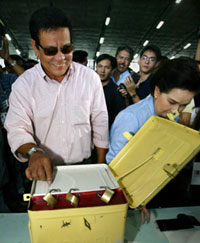 Opposition presidential candidate Fernando Poe Jr casts his ballot beside wife Susan Roces (R) at a polling center in Manila May 10, 2004. [Reuters]

FAMILIAR NAMES AND PROBLEMS
Poe, in a pink shirt and his trademark dark glasses, was mobbed by supporters as he voted at a school in San Juan.
"Peace to all," the strong, silent and gun-toting star of 282 films said in a typically brief statement.
Television exit surveys will give a preliminary picture after the polls close at 3 p.m. (0700 GMT). The official results will take a month, although a count by an independent watchdog should give an accurate prediction within a week.
Sameer Goel, foreign exchange strategist at Bank of America in Singapore, said investors would be concerned about unrest and allegations of irregularities over the next few days.
"But unless there were to be a major incident, markets are unlikely to be rattled by just this," he said. "It's seen to be part and parcel of elections in the Philippines."
Nearly two decades after the protests that toppled Marcos, the country faces widespread corruption and debts that eat up a third of state spending, leaving little to lift about 30 million people out of crushing poverty.
"The same families and political groupings dominate the political firmament, backed by the same moneyed supporters," the Philippine Star newspaper said in an editorial.
Voters will also elect a vice president, 12 senators, 200 members of the House of Representatives and 17,000 posts such as governor and town mayors.
Arroyo, who survived a brief military mutiny in July, rose to president three years ago after huge anti-graft protests ended the turbulent term of Poe's friend Estrada, a gregarious former actor now in detention as he stands trial for economic plunder.
Poe apparently failed to turn his fame into votes on the same scale as Estrada did when he swept to a landslide victory in 1998. Poe's silences on policy rattled markets nervous about the country's heavy dependence on foreign debt.
Today's Top News
Top World News

Xi'an lottery fraud suspect admits cheating




Wen leaves Italy, arrives in London




Minister: 12.7m more boys than girls under 9




`Cancer village' in spotlight




Taiwan starts recount of disputed election




Rebel bomb kills Chechen leader, 13 others