Taiwan starts recount of disputed election
(Agencies)
Updated: 2004-05-10 10:53
Taiwan began on Monday to recount the votes in a hotly contested "presidential" election to resolve a bitter political dispute that has sparked violent street protests and paralyzed policymaking on the island.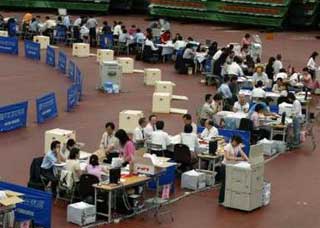 Judges and lawyers examine ballots cast in a hotly contested "presidential election" in Taoyuan on May 10, 2004, the first day of a recount to resolve a bitter political dispute that has sparked violent street protests and paralysed policymaking on the island. [Reuters


More than 400 judges and 1,600 lawyers joined Central Election Commission officials at 21 district courts around the island to open the sealed ballot boxes and monitor the recount, which is estimated to take at least 10 days.

Chen Shui-bian defeated opposition leader Lien Chan by a hair's breadth in the March 20 vote -- a day after Chen was lightly wounded in an assassination attempt while he was on the campaign trail.

Most analysts say a recount is unlikely to overturn Chen's victory.

Lien raised suspicions that the shooting was staged to win sympathy votes and filed two lawsuits to try to overturn his defeat. Chen won by fewer than 30,000 votes out of more than 13 million cast, with a record 330,000 ballots declared invalid.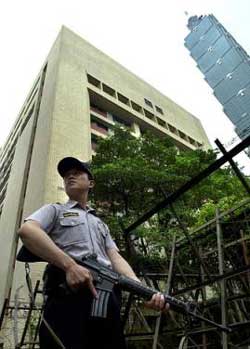 An armed policeman stands guard next to an administative building in which ballots of the March 20 election are stored, awaiting a recount, Sunday, May 9, 2004. [AP]

"We hope that this recount will support our confidence in the justice of the courts," said James Soong, the running mate of Lien.

"We should all respect the results of this... and just look at the truth," Soong told reporters at the Shihlin district court in Taipei county.

The High Court has said it hopes to complete the recount before the "president's inauguration" scheduled for May 20.

However, lawyers for both sides have said they were not confident of meeting that deadline due to a shortage of manpower.

Judges said any disputed ballots would be set aside and a court ruling obtained after all the votes are counted.

The court has said it would not release daily recount results but would wait until the whole process was complete. The judges have also urged both sides not to announce the number of disputed ballots to avoid confusion.

Chen denies rigging the election but agreed to a full recount to resolve the political crisis, which has prompted hundreds of thousands of people to state protests outside his office in Taipei.

One of Lien's lawsuits cites voting irregularities and the 330,000 spoiled ballots -- triple the number in the last presidential election -- among other factors as grounds to nullify Chen's victory.

The Central Election Commission has said most invalid ballots were rejected because voters had marked their choices outside designated squares.

Lien's second lawsuit seeks to hold a new election, saying the March 20 poll should have been postponed after the shooting that gashed Chen across the abdomen and wounded Annette Lu in the knee.

With the inauguration only 10 days away and with most people in Taiwan seeing the recount as the last word in the drawn-out dispute, analysts see little chance of a new election.

Lien also wants an impartial inquiry into the shooting, a demand that Chen has rejected. Police have identified no suspects in the attack even after top U.S. forensic experts lent their expertise to the investigation last month.
Today's Top News
Top China News

Xi'an lottery fraud suspect admits cheating




Wen leaves Italy, arrives in London




Minister: 12.7m more boys than girls under 9




`Cancer village' in spotlight




Taiwan starts recount of disputed election




Rebel bomb kills Chechen leader, 13 others