Spain troops could leave Iraq earlier than thought
(Agencies)
Updated: 2004-05-10 10:10
Spanish troops could return home from Iraq sooner than expected, Defense Minister Jose Bono was quoted as saying on Sunday.
The withdrawal of around 1,000 Spanish troops remaining in Iraq was being speeded up and they would return home before May 27, Spanish state radio quoted Bono as saying during a surprise visit to Spanish troops in Iraq.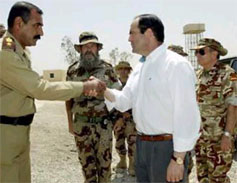 Spanish Defence Minister Jose Bono (R) greets Saadi Saleh, the Iraqi police chief in Diwaniya, during his one-day visit to the Spanish base in Diwaniya 112 miles southeast of Baghdad May 9, 2004. [Reuters]

Part of the Spanish force based in Diwaniya, in south-central Iraq, had begun the journey by road to Kuwait from where they would return to Spain, the radio said.

The radio did not play any recording of Bono's comments, but the web sites of El Pais and El Mundo newspapers carried similar reports.

Spanish Prime Minister Jose Luis Rodriguez Zapatero had said all Spanish troops were expected to have left Iraq by May 27.

A Defense Ministry statement on Bono's visit to Iraq said however that the Spanish troops were "preparing for their imminent return home, around May 27."

The Spanish troops have been ferrying equipment back to Camp Virginia, Kuwait in convoys, the statement said.

A Defense Ministry spokesman could not be reached for further comment.

Bono, accompanied by the chief of defense staff Admiral Antonio Moreno Barbera and other military commanders, toured the base, had lunch with the troops and listened to a presentation on the withdrawal plans during his brief visit to Diwaniya.

Bono, whose visit was not previously announced for security reasons, had now returned to Kuwait, the ministry said.

Zapatero announced during the campaign for Spain's March 14 general election that he would pull Spanish troops out of Iraq if the United Nations did not take charge there by June 30.

Zapatero's Socialists won a surprise victory in the election, held three days after bombs on Madrid commuter trains killed 191 people. A videotape found two days after the Madrid blasts claimed they were carried out by al Qaeda in retaliation for Spain's cooperation with the United States in Iraq.

Immediately after taking office, Zapatero said he had ordered the Spanish troops sent to Iraq by his pro-U.S. predecessor to return home as soon as possible because there was no prospect of the U.N. taking charge there by June 30.
Today's Top News
Top World News

Xi'an lottery row takes another twist




Wen leaves Italy, arrives in London




`Cancer village' in spotlight




Rebel bomb kills Chechen leader, 13 others




Researcher: Sweat may transmit SARS virus




Consumption up during long holiday