Britain's Blair faces call for resignation
(Agencies)
Updated: 2004-05-10 08:48
British Prime Minister Tony Blair, dogged by speculation about his future, faced a call for his resignation Sunday by a senior member of his Labor Party as a new poll suggested he had become an electoral liability.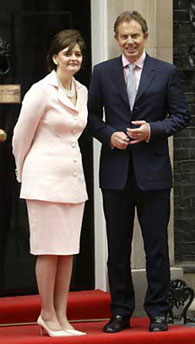 Blair (R) and his wife Cherie stand on the steps of Downing Street as they await the arrival of Poland's President Kwasniewski in London, May 6. [Reuters]

Lord David Puttnam, a Labor peer and personal friend of Blair, said months of negative headlines about Iraq would damage the party's electoral prospects and the prime minister should make way for finance minister Gordon Brown.

"The prime minister is synonymous with Iraq, and Iraq will only deliver bad news," Puttnam told ITV News television, the ITV Web site said. "If I were him, I would go before the summer (parliamentary) recess."

Former foreign secretary Robin Cook also waded into the debate, saying Blair was having enormous difficulty focusing attention on the domestic agenda instead of what he called the "major mistake" of Iraq.

"There will come a time when he has to ask himself whether he can succeed in that task or whether somebody else should do it," Cook told BBC Television.

Blair's support for the war in Iraq, a U-turn on a referendum on a European Union constitution and an immigration policy widely seen as bungled have crushed public trust and prompted speculation Brown will take over.

Spelling further bad news for Blair, a YouGov poll in the Mail Sunday newspaper said Labor could only win an overall majority at the next election if Blair hands over to Brown.

The poll also showed support for the war in Iraq at an all-time low following charges of abuse of Iraqi prisoners by British and American troops.

Four out of 10 people now believe Britain was right to invade Iraq, compared with six out of 10 in April last year.

Puttnam, a renowned film producer, said if Iraq became a stable democracy over the next few years, Blair's decision to back the U.S.-led war would be proved right.

But in the short-term, Blair should quit to boost Labour's prospects at the next election expected in 2005, he said.

The YouGov poll showed Labor would win the election but fall short of a majority with Blair in charge. But it would win a majority of 77 seats if he handed over to Brown.

If there was an election tomorrow, with Blair in the top job, 40 percent of people would vote for the Conservatives, the main opposition party, and 36 percent Labor. But if Brown was Labor leader the parties would be level at 39 percent.

Because of the way those votes are spread across different constituencies that would leave Labor still with more seats than the Tories, but three short of an overall majority.

YouGov questioned a representative sample of 1,976 electors online between Thursday and Saturday.
Today's Top News
Top World News

Xi'an lottery row takes another twist




`Cancer village' in spotlight




Rebel bomb kills Chechen leader, 13 others




Wen leaves Italy, arrives in London




Researcher: Sweat may transmit SARS virus




Consumption up during long holiday