Minister: 12.7m more boys than girls under 9
(Xinhua)
Updated: 2004-05-10 08:45
China's population will reach 1.557 billion in 2043 and after that the country will approach a zero population growth rate, and the problems of newborn sex disproportion and population aging should also be handled seriously, officials and experts have said.
Delivering a speech at a recent forum held by China's prestigious Beijing University, Zhang Weiqing, minister in charge of the National Population and Family Planning Commission, said that China will encounter other severe problems in population control and family planning in the coming decades, such as newborn sex disproportion and population aging.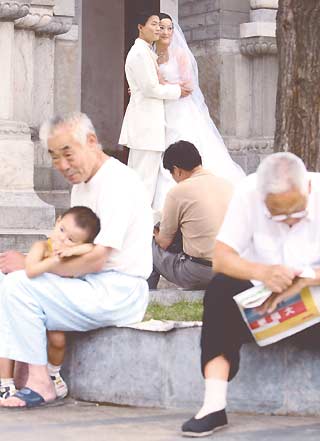 A young couple poses for a wedding photo session in front of a church in Beijing, while an elderly man enjoys the company of his grandchild. Problems, aside from birth-control issues, such as a rising gender imbalance and the ageing population, have sparked concerns by experts and officials. [Reuters/file]
He said China's newborn gender ratio of girls to boys was 100:117, according to the fifth national census. The number of boys under 9 years old was 12.77 million more than that of girls.
In March this year, Li Weixiong, vice-chairman of the population, resources and environment committee of the National Committee of the Chinese People's Political Consultative Conference (CPPCC), elaborated the awful outcome of sex disproportion in a keynote speech at a full meeting of the CPPCC annual session.
Li said the normal newborn sex proportion is 100:104-107, and if China's disproportionate figure is allowed to continue unchecked, there would be 30 to 40 million marriage-age men who would be single all their lives by 2020.
"Such serious gender disproportion poses a major threat to the healthy, harmonious and sustainable growth of the nation's population and would trigger such crimes and social problems as mercenary marriage, abduction of women and prostitution," Li said.
Zhang urged resolute measures be taken to curb the fast growth of the newborn sex disproportion. He also said the aging population could not be ignored.
The number of elderly people aged 65 or above will account for 11.8 percent of the country's whole population in 2020. And the figure will rise to 25 percent in the mid-21st century, said Zhang.
"To be more serious, the aging problem is much more severe in the country's rural areas than in urban areas, which challenges the establishment of a health insurance system and social security system for the elderly," said Zhang.
China's increasingly swelling population will produce profound pressure and influence on the country's resources and environment in coming decades, adding that the country's population is approaching its resources capacity limitation, he said.
Zhang also pointed out other population-related problems, saying that the fertility rate is unstable, the general populationquality is low, employment faces huge pressure and the public health system is poor.
Zhang said that to solve those problems, more research on population development strategy would be done.
Today's Top News
Top China News

Xi'an lottery fraud suspect admits cheating




Wen leaves Italy, arrives in London




Minister: 12.7m more boys than girls under 9




`Cancer village' in spotlight




47 detained for selling baby-killer milk




Taiwan starts recount of disputed election