`Cancer village' in spotlight
(China Daily)
Updated: 2004-05-10 00:21
With scores of sick farmers and 20 already dead, a village some 300 kilometres northeast of Nanjing has become known as the "cancer village" of Jiangsu Province.
Authorities suspect serious pollution is behind the high concentration of cases of cancer.
A major investigation was started after the media put the spotlight on the Funing County village called Yangqiao.
Several departments, including the Funing County environmental bureau, are currently investigating.
Ten people were recently diagnosed with cancer.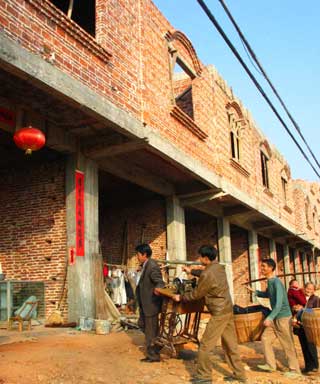 A village in Yugan County, East China's Jiangxi Province is relocated due to high incidence of cancer among the villagers. It is reported that 45, most of them in the prime age, had died of cancer since 1988. Investigation found a high mercury content in water in the village. [newphoto file]

A strange smell emanates from three factories in the village, one agricultural pesticide factory and two chemical plants, which produce waste water day and night.

Many residents believe chemicals from the factories are behind the cancer in the village.

A county government official surnamed Zhou said recently they would invite scientists and experts to make a thorough investigation of the village.

An official from the county's environmental bureau surnamed Yang said the government and the bureau would work together.

Zhou and Yang said it would take time to check for a connection between the high rate of cancer and chemical pollution there.

To date, however, local health department has not been officially informed of the situation.

According to the Nanjing-based Jiangnan Times, an affiliate of Beijing-based People's Daily, more than 80 per cent of the villagers say they can smell an awful odor in the village, which makes them feel very uncomfortable, and leads to breathing problems and dizziness. Old people and children are often felled by coughs and constricted chests.

A river that runs through the village and wells are also seriously polluted by the waste of the chemical plants.

Even the tap water smells of agricultural chemicals.

Residents say many of their dogs and cats died after drinking the water or eating the fish from the river.

Fields are also hurt by the chemical pollution.

Villagers dare not eat grain and vegetables grown in their own fields and have to buy them from other places.

The Jiangnan Times found that most victims died of cancer to organs in the respiratory or digestive systems.

The youngest victim, Yang Jinqiao, was 29.

Many villagers have left their hometown.

Few local people work in the chemical plants and most workers are from other places, said a villager.
Today's Top News
Top China News

Xi'an lottery row takes another twist




`Cancer village' in spotlight




Rebel bomb kills Chechen leader, 13 others




Wen leaves Italy, arrives in London




Researcher: Sweat may transmit SARS virus




Consumption up during long holiday