798 art factory artists to change face of Beijing
(Xinhua)
Updated: 2004-05-09 09:04
The Eastern German Bauhaus architects who designed Beijing's no. 798 electronics factory in 1950 may have never imagined their work would become a citadel for China's independent avant-grade artists half a century later.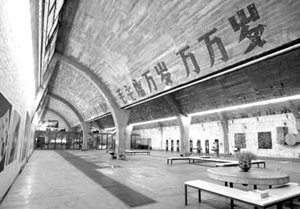 A workshop of Eastern German Bauhaus style in 798 factory complex [file photo]

A modern art festival is ongoing in this China's Greenwich village, with vivid, sound installation exhibitions staged in galleries and studios drawing artists, directors and filmmakers from around the world.

"I didn't originally intend this to become an art community. I was just looking for space to do my own work," said Huang Rui, one of the first artists who moved here in 2002.

Huang also did not intend to raise the land price here as has now happened. Real estate developers began to realize that artists' experiments could do wonders for the image and value of their property. In other areas of Beijing, dozens of imitators have tried their hand at starting new art communities and then developing business districts.

"Public participation is crucial to China's rapid urbanization.The government should encourage individual efforts to create and develop communities and support them by providing infrastructures," said Vice Minister of Construction Qiu Baoxing.

Statistics show that China's urbanization rate reached somewhat30 per cent in 2003. Increasing by one percentage point annually, this figure will eventually arrive at a much higher rate. Cities in the Yangtze Delta and Pearl River Delta spend billions of Renminbi yuan to expand urban areas to accommodate inflowing population.

"The construction mania left millions of plain modern buildings all over the country, which do harms to or even spoil historical sights and original planning," said Zhu Bingren, a traditional brass sculptor from the southeastern city Hangzhou famed for the picturesque West Lake.

Different from Huang, who may change the face of Beijing by introducing modern art communities into the urban structure, Zhu hopes to initiate a nationwide drive, namely "New Culture Heritage Campaign", to promote traditional architecture.

"Some cities blindly pursue foreign-style buildings while others are obsessed with imitating ancient Chinese architect only to attract tourists. Both tendencies are risky," said Zhu.

Zhu believe that responsible planners could design architecture inheriting both genuine local features and modern spirit, and build them with no hurry. "It's our responsibility to leave something which will be treasured and regarded as fine cultural heritage by future generations."

Although Huang and Zhu hold to differing art ideals, they may reflect the vitality and resolve of China's independent artists to decide what their cities, or even the whole country, will look like in 100 years.
Today's Top News
Top Life News

Premier: China will consider Taiwan reunification law




China, Britain push for stronger relations




Taiwan recount to settle vote dispute




China denies plan of administrative remap




Tornado pummels Guangdong areas, kills 6




Red Cross: Iraq abuse routine, systematic