Russian President Putin starts 2nd term
(Agencies)
Updated: 2004-05-08 11:06
With a 30-gun salute echoing through the Grand Kremlin Palace, Russian President Vladimir Putin began his second term Friday by vowing to help Russia's many poor and protect its "legitimate interests in the rapidly changing world."
Putin directed most of his brief inaugural speech to his countrymen ! saying his top priority would be improving their living standards ! but he also touched on Russia's changing international role.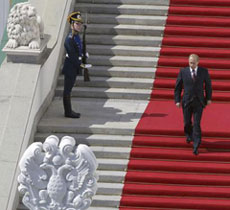 Russian President Vladimir Putin walks down the staircase to review a parade during an inauguration ceremony in Moscow's Kremlin, Friday, May 7, 2004. [AP]

"Together we have made our homeland an open country, a country prepared to cooperate on a wide and equal basis with other states, a country deepening its position on the international stage and capable of defending by peaceful means its legitimate interests in the rapidly changing world," Putin told the audience of 1,700 invited guests in the gilded Andreyevsky Hall.

Under Putin, Russia has increased its partnership with its former Cold War-foe NATO, which expanded last month to within about 100 miles of Putin's hometown of St. Petersburg. Putin has repeatedly said that he doesn't believe NATO's eastward expansion will make the world safer, but he also has pledged cooperation.

Russia also has forged closer ties with the European Union, and is pushing for membership in the World Trade Organization. Moscow has linked up with the United States in the fight against terrorism, and moved to reassert some of the global influence it lost after the breakup of the Soviet Union.

Putin used the occasion of his inauguration to refer to Russia as a "vast, great power" ! a message he has emphasized repeatedly. But Putin noted his biggest goal is at home: making life easier for the millions of Russians still impoverished more than a decade after the Soviet collapse. About one-fifth of Russia's 144 million people live in poverty.

"Only free people in a free country can be successful: that is the basis for the strong economic growth of the country and its political stability," Putin said.

Critics accuse Putin of stifling dissent and media freedom and reasserting the power of the security services. The two main elections held under his watch ! his own on March 14 and December's parliamentary balloting ! fell short of democratic standards, international observers said, dampening hopes raised four years ago when Putin's inauguration marked Russia's first democratic transfer of power.

But the 51-year-old Putin remains hugely popular, largely thanks to the economic stability and growth that marked his first term, which followed years of post-Soviet decline and chaos. Analysts say Putin has been blessed by high world oil prices and has yet to make the needed structural changes in Russia's bureaucratic-heavy government or natural resources-dominated economy.

Unlike four years ago, he has significant power in the form of a parliament dominated by the pro-Putin United Russia party, a hand-picked Cabinet and his stronger international reputation.

He thanked citizens for tackling "many problems that seemed impossible to solve" in 2000 ! the year he was first elected ! saying they had managed to improve Russia's economy and "strengthen its position in the international arena."

He said the main goal of his second term is to "achieve a fundamentally better quality of life of our people ! achieve real, palpable growth in their well-being."

Putin has called for doubling the gross domestic product in a decade and promised administrative reforms. He has also warned the nation that some uncomfortable reforms may be ahead in a bid to improve living standards ! but he has yet to give any details.

The inaugural was full of pomp: the 30-gun salute, goose-stepping guards and Moscow streets emptied to allow Putin's black Mercedes to reach the Kremlin.

Putin acknowledged the strength of Russia's presidency and the weight of his responsibility, but warned that "the success and prosperity of Russia cannot depend on a single person or a single political force."

In the last four years, however, something resembling a personality cult has grown up around Putin, with his portrait widely for sale in stores and a pop song extolling his discipline.

After his inauguration, the pro-presidential youth group Moving Together rallied thousands of young people in central Moscow in celebration. Many wore images of Putin on T-shirts and carried banners with his picture.

About 20 protesters from a leftist youth group staged an anti-Putin march. The Interfax news agency reported several were detained, but police said they had no information.

Later Friday, about 15 members of a small, radical party, the National Bolsheviks, rushed the stage at the Bolshoi Theater during Tchaikovsky's opera "Mazeppa" and unfurled anti-Putin banners before being dragged away by police, Interfax said. Police confirmed the incident, but gave no details, and Interfax said the second act was delayed about 30 minutes.

The ease of Putin's re-election has led to constant speculation about a successor ! or whether there will be constitutional change to give Putin a third term. Putin has suggested that he doesn't plan to extend his time in office, but has said he will seek someone to carry on his policies after the 2008 election.
Today's Top News
Top World News

SARS could spread via coughs, sweat, urine




Economy sees signs of cooling down




Follow Marco Polo's footprints, says Wen




Rumsfeld apologizes for Iraq prison abuse




China to diversify foreign exchange reserves




Female soldier charged in Iraq abuse case