Iran wants European, Russian help to enrich uranium
(Agencies)
Updated: 2004-05-08 10:02
Iran wants to team up with European states and Russia to produce enriched uranium, hoping that by involving them it can remove fears that it is developing nuclear arms, a senior official was quoted as saying Friday.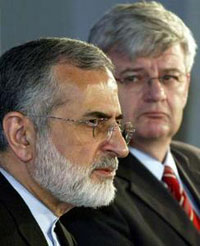 Iranian Foreign Minister Kamal Kharrazi (L) and his German counterpart Joschka Fischer address the media following their bilateral meeting in Berlin May 5, 2004. [Reuters]

"Europeans are concerned about Iran's uranium enrichment program and feel distrustful toward it," Hossein Mousavian, secretary of the foreign policy committee of Iran's Supreme National Security Council, told Russia's Itar-Tass news agency.

Iran says it wants to produce enriched uranium as fuel for nuclear power reactors. But many Western countries fear Iran could use the technology to make bomb-grade material and the United States says it has a secret atomic weapons program.

Iran and Europe "should jointly build trustful relations, including joint uranium enrichment programs," Mousavian said, adding that he planned to raise the idea with Britain, Germany and France in the next two to three weeks.

"We could, for example, start talking about setting up a consortium, which would include European countries and Russia, to work together on this program."

An official at Russia's Atomic Energy Agency, who declined to be named, was skeptical about the proposal. "Of course this is not necessarily just political chit-chat by the Iranian side at a time when their nuclear program is under so much scrutiny," he said." But we see it as something rather unlikely to happen, at least in the near future."

Under intense international pressure after revelations it has hidden sensitive nuclear research from the world for 18 years, Iran last year agreed to allow snap inspections of its nuclear plants and suspend uranium enrichment activities.

But Tehran insists it will not abandon its enrichment program and plans to restart it once doubts about its nuclear plans have been cleared up.

IRAN CONFIDENT ABOUT IAEA MEETING

The Foreign Ministry said Iran was confident of escaping censure at next month's U.N. nuclear watchdog board meeting.

"I am optimistic about the results of the International Atomic Energy Agency's (IAEA) next meeting," the official IRNA news agency quoted spokesman Hamid Reza Asefi as saying.

"Iran will definitely not be condemned in the next meeting, because Iran has been cooperating with the agency transparently."

But several Western diplomats in Vienna said they expected IAEA chief Mohamed ElBaradei to say Tehran had not been cooperating fully with the agency in the June report on Iran.

"This would require a strong resolution by the IAEA board," one diplomat said.

ElBaradei warned Iran Thursday the world would not wait forever for the Islamic republic to divulge the full extent and nature of its nuclear program.

Doubts remain about Iran's assurances of peaceful intentions, but diplomats privately acknowledge they have not found any "smoking gun" proving Iran wants atomic weapons.

"We have suspicions but no evidence and we're running out of leads to follow up," one said.

Another diplomat said even Washington acknowledged there was no prospect of the IAEA board sending Iran's case to the U.N. Security Council in June for possible sanctions.