Mars scientists find tempting new rocks
(Agencies)
Updated: 2004-05-08 08:49
Excited Mars mission scientists on Thursday released spectacular pictures of cliff-like rocks they hope will provide further clues about the extent of water on the red planet.
Scientists at the Mars mission headquarters in Pasadena said the pictures were taken by the robot rover Opportunity from the rim of a football-stadium sized crater reached after a six-week trek across martian flatlands.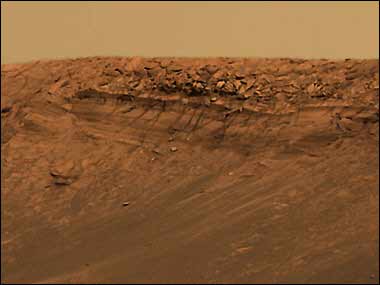 This approximate true-color image taken by the panoramic camera on the Mars Exploration Rover Opportunity highlights a feature called 'Burns Cliff' within the impact crater known as 'Endurance.' [AP Photo]
The crater, dubbed Endurance, is lined by multiple layers of exposed bedrock resembling cliffs that mission scientists said is completely different from anything they have seen since the ground-breaking Mars mission began in January.
"It's the most spectacular view we've seen of the martian surface, for the scientific value of it but also the sheer beauty," principal science investigator Steve Squyres told a news conference.
"It looks fundamentally different from anything we've seen before. It's big. It's massive. It has a story to tell us."
The Endurance crater is about 500 meters from the Eagle crater where Opportunity landed and where scientists announced in March that they had found geologic evidence of a body of salty water once deep enough to splash in.
Since then they have been trying to fill in the picture of the environment on Mars before the water evaporated.
Eagle Crater "was the last dying gasp of a body of water," Squyres said. "The question that has intrigued us since we left Eagle Crater is what preceded that. Was there a deep body of water for a long time? Was there a shallow, short-lived playa (beach)? We don't know."
Squyres said the team planned to send Opportunity on a traverse lasting several weeks around the rim of the Endurance crater to assess the prospects of the rover descending into it and using its array of geological tools to inspect and take samples from the rocks.
Mission scientists are anxious to balance the geologic discoveries within their grasp with the danger of Opportunity toppling into the crater, thereby ending the mission, if it takes the wrong route.
"The rover could fall off and die if we are not careful," Squyres said.
Opportunity and its twin rover Spirit, on the other side of the planet, were designed for 90-day missions. That landmark came and went last month but the rovers, controlled from the Jet Propulsion Laboratory in Pasadena, are still in such good health that NASA has approved funding to extend the missions through September.
"We are not worried about whether there is enough gas in the tank. It is like the mission is starting over. There is something cool going on there. Let's go have a look at it," Squyres said.
Today's Top News
Top World News

Economy sees signs of cooling down




Follow Marco Polo's footprints, says Wen




Rumsfeld apologizes for Iraq prison abuse




Female soldier charged in Iraq abuse case




Mars scientists find tempting new rocks




Substandard drug firms face shutdown