Red Cross says it warned US of abuse
(Agencies)
Updated: 2004-05-08 08:43
The Red Cross said Friday that it had been warning of prisoner abuse in Iraq since shortly after the U.S.-led invasion. U.S. administrator L. Paul Bremer said he first became aware of the allegations in January.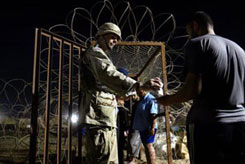 U.S. Army Military Policeman Sgt. Geoff Reil from Columbus, Ohio pays an Iraqi prisoner in cigarettes for taking out the garbage from an inner compound of the Abu Ghraib Prison on the outskirts of Baghdad, Iraq, May 7, 2004. [AP]

Also, a senior U.S. military officer in Iraq, Brig. Gen. Mark Kimmitt, said the damage to Iraqi-American ties caused by the scandal "is not irreparable," but he admitted that improving relations with Iraqis is "going to take some effort on behalf of the Americans."

U.S. President Bush, in an interview published in an Egyptian newspaper, acknowledged that "times are tough for the United States and the Middle East" and again apologized for the conduct of U.S. soldiers in Iraq, using the word "sorry" six times.

U.S. officials insist the abuse of prisoners at Abu Ghraib prison was limited and did not reflect policy.

However, the International Committee of the Red Cross said it warned American officials of prisoner abuse in Iraq more than a year ago and that the mistreatment was "not individual acts."

"There was a pattern and a system," Pierre Kraehenbuehl, the ICRC's director of operations, said in Geneva. Some of the actions were "tantamount to torture," he said.

The ICRC findings were "discussed at different moments between March and November 2003, either in direct face-to-face conversations or in written interventions," Kraehenbuehl said.

Some of the earlier discussions were with Brig. Gen. Janis Karpinski, commander of the 800th Military Police Brigade overseeing the prison.

Karpinski has been suspended by the military as part of its probe into the abuses.

In February, ICRC officials discussed a report on the subject with Bremer and Lt. Gen. Ricardo Sanchez, the commander of U.S. forces in Iraq, Kraehenbuehl said.

Kraehenbuehl refused to give details of the report, but confirmed that a leaked ICRC report published Friday by The Wall Street Journal was genuine.

The report summarized information given to U.S. officials since shortly after Iraq was invaded in March 2003, Kraehenbuehl said.

It described prisoners kept naked in total darkness and male prisoners forced to wear women's underwear, the Journal said.

In another episode, nine men were arrested and beaten severely, and one of them died, the newspaper said.

"Ill-treatment during interrogation was not systematic, except with regard to persons arrested with suspected security offenses or deemed to have an intelligence value," the report said, according to the newspaper.

Kraehenbuehl said American authorities took action on some issues but "there were situations that remained unacceptable and difficult."

There also were problems with prisoners held by the British, Kraehenbuehl said, but he refused to elaborate.

On Friday, one former prisoner, Fawzi Faisal, told The Associated Press in Mosul he was arrested in December and brought to a lockup in northern Iraq, where "the Americans started to beat me severely and they put a sack on my head for seven days."

Faisal, who said he was arrested on suspicion of attacking Americans, was later brought to Abu Ghraib, where he said soldiers entered his room "with dogs in order to frighten us."

A British television station reported Friday that a young Iraqi girl held at Abu Ghraib was stripped naked and beaten while her brother heard her scream from another cell.

The ITV News report quoted Suhaib al-Baz, 24, a cameraman for the Arab satellite TV network Al-Jazeera, as saying he saw the abuse while he was being held at the prison.

Earlier, al-Baz told the AP he was stripped, beaten, spat upon and deprived of sleep during his 74-day stint in U.S. Army custody.

The Swiss-based ICRC is designated by the Geneva Conventions on warfare to visit prisoners of war and other people detained by an occupying power to ensure that countries respect obligations under the 1949 accords.

Dan Senor, spokesman for the Coalition Provisional Authority, said Bremer was made aware of the accusation concerning prisoner abuse in January.

That month, the U.S. command said it began investigating allegations of mistreatment of prisoners at a coalition detention center, later identified as Abu Ghraib. The probe started after a soldier at the lockup said he could not tolerate abuses he witnessed and presented pictures to his superiors.

Senor said he was not sure when Bremer first saw photographs of the abuse. Those photographs ¡ª first shown last week on CBS ¡ª unleashed worldwide condemnation of the way America was treating prisoners in a country the United States says it invaded to liberate from Saddam Hussein's tyranny.

U.S. officials in Baghdad have been desperately trying to calm the shock and anger felt throughout the Arab world, where there is already deep suspicion about U.S. intentions in Iraq. The anger is intensified by the fact that Abu Ghraib was a notorious prison under Saddam where prisoners were tortured and executed.

"Obviously, our reputation has been damaged severely by the terrible and horrible acts, inhumane acts that were conducted on Iraqi prisoners," Bush told Egypt's al-Ahram newspaper.

"I can't tell you how sorry I am to them and their families for the humiliation. I'm also sorry because people are then able to say, `Look how terrible America is.'"

Senor said the six soldiers who face criminal charges in the abuse scandal will be brought to trial and their hearings will be a "a fair and transparent process."

Kimmitt said the United States has "to show to Iraqis that U.S. justice works."

In Kufa, a radical Shiite Muslim cleric whose militia has fought U.S. troops rejected Bush's apology and demanded that the accused soldiers be tried in Iraq.

"What sort of freedom and democracy can we expect from you (Americans) when you take such joy in torturing Iraqi prisoners?" Muqtada al-Sadr said to worshippers at a mosque.

"America claims that it is fighting terrorism, and not sponsoring it, and is spreading justice and equality among peoples and freedom and democracy," al-Sadr said. "Now it is doing the same acts done by the small devil Saddam and in the same place where Iraqis were oppressed."

U.S. forces clashed with militiamen loyal to al-Sadr Friday, killing 23 Iraqis.
Today's Top News
Top World News

Economy sees signs of cooling down




Follow Marco Polo's footprints, says Wen




Rumsfeld apologizes for Iraq prison abuse




China to diversify foreign exchange reserves




Female soldier charged in Iraq abuse case




Mars scientists find tempting new rocks