Follow Marco Polo's footprints, says Wen
By Jiang Zhuqing (China Daily)
Updated: 2004-05-08 00:22
Visiting Premier Wen Jiabao Friday encouraged entrepreneurs from China and Italy to carry forward the spirit of exploration embodied in Marco Polo and the Silk Road to blaze a new trail towards bilateral co-operation.
China will hold firmly by its opening-up policy to carry on exchanges and co-operate in a spirit of friendship with other economies, said Wen at the China-Italy Seminar on Investment in Italy, the third stop in his five-state European visit.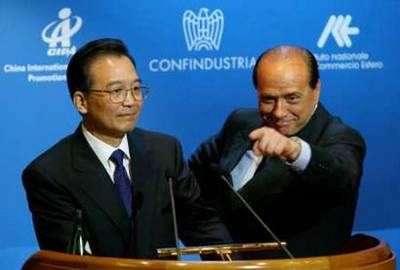 Chinese Premier Wen Jiabao (L) looks on as his Italian counterpart Silvio Berlusconi gestures at the end of their meeting at Confindustria, the Italian association of industrialists in Rome, May 7, 2004. [Reuters]
China's development brings no threat to any other countries as it would never seek hegemony, said Wen. "Moreover, it will take China at least 50 years to catch up to moderate developed countries assuming the country maintains a rapid growth."
Vast markets, abundant labour forces, substantive bank deposits of the people and foreign exchange reserves indicate that China's economy will continue to grow at a steadily rapid pace, Wen said.
As to the Sino-Italian economic co-operation, the trade volume topped to US$11.7 billion last year from US$100 million or so in 1970 when the two nations established diplomatic relations, Wen said.
By the end of 2003, Italy had invested in 2,136 projects in China, with the contractual value standing at US$3.82 billion and the actual investment US$2.49 billion.
Meanwhile, Italy's investments in China only account 4.6 per cent of its foreign investment and are limited to the coastal areas of China, such as Shanghai, he noted.
Being an industrial power, Italy boasts mature technology, famous brands and numerous dynamic small and medium-sized enterprises, said Wen, adding he hopes these firms will seek more co-operative partners in China's western, northeastern and middle regions.
In order to improve the investment environment for foreign investors, Wen said China will abide by the rules of the World Trade Organization.
During the past three years, China has lowered its tariff rate from 15.6 per cent to 10.4 per cent and begun to get rid of non-tariff barriers gradually, he explained.
To work according to WTO practices, the Chinese Government has amended more than 3,000 laws and regulations, Wen said. At the same time, it will spare no effort to protect intellectual property rights.
As another trail blazing move, there is a tendency among many Chinese companies to invest in Italy, said Wen.
China's sustained economic development and its vast market have offered a new platform for the two countries to push forward bilateral co-operative relationships, participants to the seminar said.
"Entrepreneurs from the two countries are encouraged to inherit the exploration spirit of Marco Polo as well as of the Silk Road to initiate their business," Wen said.
Echoing Wen's remarks, Italian Prime Minister Silvio Berlusconi said the world's development can not be separated from that of China and he hopes more Italian companies will seek opportunities in China and vice versa.
The two-day seminar was co-sponsored by China's Ministry of Commerce and Italy's Ministry of Production Activities.
Wen arrived in Rome on May 6 with plans to hold talks with his Italian counterpart, Silvio Berlusconi. He also met Italian President Carlo Azeglio Ciampi and speakers of the Chamber of Deputies and the Senate to exchange views on Sino-Italian and Sino-European ties and international issues.
Today's Top News
Top China News

SARS could spread via coughs, sweat, urine




Economy sees signs of cooling down




Chinese students rush to join air force




Follow Marco Polo's footprints, says Wen




Rumsfeld apologizes for Iraq prison abuse




China to diversify foreign exchange reserves