Quarantine of two Beijing hospitals lifted
(Xinhua)
Updated: 2004-05-07 10:43
The respiratory disease wards with two hospitals in Beijing were announced to be lifted out of isolation on Thursday as no new cases of SARS infection have ever been found after two weeks' isolation.
Flanked by flowers, 159 medical workers, in-patients and helpers, all smiling, unveiled face and walked out of the strictly quarantined sections at Jiangong Hospital and at Renmin Hospital affiliated to the Peking University.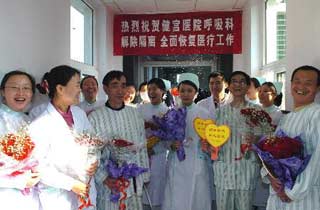 Medical staff and patients in the Beijing Jiangong Hospital celebrate their release from SARS quarantine May 6, 2004. On April 22, a nurse with the hospital was confirmed as having contracted the disease, prompting the quarantine of these medical staff and patients. [newsphoto]
On April 2, a nurse surnamed Li from Jiangong Hospital of Beijing was diagnosed to have contracted the severe acute respiratory syndrome (SARS) while receiving medical treatment at the ICU of Renmin Hospital.
To prevent SARS spreading, the Beijing municipal health authorities on the same day ordered isolation of the respiratory diseases wards with the both hospitals where the nurse used to seek medical treatment. And people who have had close contacts with the nurse were also put under strict medical surveillance and epidemiological investigation.
Jin Dapeng, head of the Beijing municipal administration for public health, said when the isolation was in place, all in-patients with the two hospitals were asked to take temperature on a daily basis.
And disease control workers carefully treated specimens collected from the nurse for medical observation and thoroughly disinfected all the infected places so that no new cases of SARS infection have happened at the two hospitals.
According to Jin, the nurse, the first diagnosed SARS patient in Beijing this spring, was been discharged from hospital on Wednesday after having fully recovered from the diseases.
The two hospitals will soon resume normal medical service, scientific research and teaching work after a thorough disinfection, said Jin.
Today's Top News
Top China News

Sino-EU partnership advances to new level




300 out of SARS quarantine in Beijing, Anhui




Bush apologizes, says Rumsfeld will stay




Hu: Growth hurdles 'need our attention'




Trapped holidaymakers rescued from island




Bin Laden said to offer gold for killings