300 out of SARS quarantine in Beijing, Anhui
By Wang Ying
Updated: 2004-05-07 08:49
More than 300 people were released Thursday after being quarantined following contact with SARS patients.
The group included 203 in Beijing and 113 in East China's Anhui Province.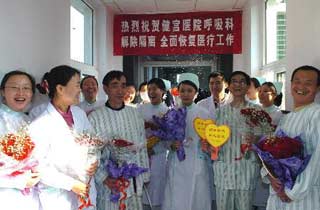 Medical staff and patients in the Beijing Jiangong Hospital celebrate their release from SARS quarantine May 6, 2004. [newsphoto]
There were no new suspected or diagnosed SARS (severe acute respiratory syndrome) cases on the Chinese mainland in the 24 hours before 10 am yesterday, according to the Ministry of Health's daily surveillance report.
The total number of victims in the latest occurrences remained at nine, including seven in Beijing and two in Anhui. One of the Anhui patients died in late April and one of the Beijing patients recovered and was released from hospital on Tuesday, said the ministry.
Hundreds remained quarantined until yesterday, though the exact number was not available due to difficulties in collating information, a spokesman with the Ministry of Health said yesterday.
Health officials previously said more than 700 people had been placed in quarantine in Beijing alone.
Meanwhile, the World Health Organization (WHO) said it will continue working to find the source of the latest outbreak, said Beijing-based WHO spokesman Roy Wadia.
Wadia said the diagnosis of the SARS cases was a bit slow at the initial stage, and the WHO will work with the Ministry of Health to find out why.
"We will continue our other investigations in China in the next couple of weeks, such as investigation to the infectious sources of the victims and talks with ministry officials."
The WHO has sent experts to China to help address the SARS situation.
The group concluded its Anhui trip in late April and now is working in Beijing to process the findings of the trip.
"It is still too early to produce the results of our Anhui trip, where we visited several hospitals and research centres and talked with the SARS patient surnamed Song," Wadia said. "A second trip to Anhui is possible soon."
Song, a medical school graduate student, has improved and is expected to leave hospital soon.
She has had a normal temperature for 13 straight days. But Song's mother died on April 19.
The first diagnosed SARS patient in Beijing on April 22, a 20-year-old nurse identified only as Li, was released on Tuesday after spending nearly a month in hospital.
But Li's former ward mate, Zhang, is in a serious condition.
Other SARS patients are in a stable condition, health officials said.
Today's Top News
Top China News

Sino-EU partnership advances to new level




300 out of SARS quarantine in Beijing, Anhui




Bush apologizes, says Rumsfeld will stay




Hu: Growth hurdles 'need our attention'




Trapped holidaymakers rescued from island




Bin Laden said to offer gold for killings