Sino-EU partnership advances to new level
By Meng Yan (China Daily)
Updated: 2004-05-07 08:28
Premier Wen Jiabao and European Commission President Romano Prodi Thursday pledged to enhance the comprehensive strategic partnership between China and the European Union (EU), which was established last year.
During their talks, Wen proposed that leaders from the two sides increase discussion on strategic issues and expand bilateral economic and technical co-operation.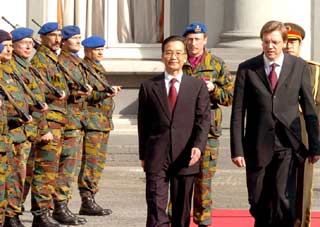 Prime Minister Wen Jiabao is welcomed by European Commission President Romano Prodi (right) before a meeting at the EC headquarters in Brussels May 6, 2004. Wen is on a two-day official visit to Belgium and to EU institutions. [Reuters]
Wen also suggested China and the EU handle their differences in a more timely and effective manner by improving consultation between the two countries. China is ready to establish various forms of dialogue mechanisms with the EU, said Wen.
Prodi reaffirmed the EU's continued adherence to the one-China policy and expressed its hope for a peaceful resolution of the Taiwan question through constructive dialogue, according to a joint Sino-EU press statement issued after the talks.
The two sides yesterday put their names to a customsco-operation and mutual administrative assistance agreement. This will further facilitate increasing bilateral trade flows and contribute to tackling breachs of customs legislation including infringements of intellectual property rights, a major concern of both sides.
They also signed a joint declaration on co-operation on the Galileo satellite navigation system as well as three Sino-EU framework documents on the textile trade, competition policy and trade policy.
Speaking at a joint press conference after the talks, Wen said China supports the EU's process of expansion and integration. He said a strong and stable Europe will play a more positive and constructive role in both European and international affairs.
In his speech delivered to the China-EU Investment and Trade Forum held before the talks, Wen urged the EU to recognize China's full market economy status at an early date.
He said a socialist market economy has virtually taken shape in China due to the rapid growth of the non-public sector, which has taken up a considerable share of the national economy, with the marketplace determining the prices of more than 90 per cent of products in the nation.
China has streamlined its policies, measures, laws and regulations in order to keep in line with World Trade Organization (WTO) requirements and Chinese enterprises have gained an independent footing due to the transformation of government functions and the deepening of structural reform, said Wen.
And China-based foreign-funded firms will also receive preferential treatment with regard to taxation and a host of other issues, Wen said.
He said China follows a market-based, single and regulated floating exchange rate regime and is committed to improving its exchange rate forming mechanism.
With social security coverage expanding steadily, the rights and interests of workers regarding issues such as pensions, work-related injuries, medical care and unemployment benefits have been effectively guaranteed.
"I hope the EU will take a full note of these facts and recognize China's status as a full market economy at an early date," Wen said, adding that such recognition would undoubtedly lead to a fresh round of expansion in China-EU trade and economic co-operation.
In the joint press statement, Prodi confirmed that a preliminary assessment of this issue, without prejudicing the final result, would be given to the Chinese side by the end of next month.
At the forum, where nearly 500 people from the EU business community took part, Wen also made a five-point proposal to further expand bilateral economic ties, which he said are an essential feature of Sino-EU relations.
Bilateral trade reached a record US$125.2 billion in 2003, making the EU China's third largest trading partner, after the United States and Japan.
Wen proposed that both sides tap their potential to expand scale and increase volume of bilateral trade. At last year's China-EU Summit in Beijing, Wen proposed that bilateral trade reach US$200 billion by 2013. He said Sino-EU trade is likely to top US$150 billion this year.
Wen said China and EU should increase joint high-tech research and development, with a view to developing internationally competitive products and opening up new markets, alongside promoting co-operation in traditional areas of products procurement, technology transfer and investment.
Wen said the two sides should help small and medium-sized businesses emerge as a vital player in the China-EU economic partnership by offering such services as information, financing and co-operation platform and giving a full scope to the role of intermediary agencies.
The premier reiterated that China will continue to honour its commitments to the WTO by stepping up protection of intellectual property rights and increasing the fairness and transparency of its trade and economic policies, laws and regulations.
He called on the EU to ease its restrictions on high-tech exports to China and lift import bans that are inconsistent with the WTO rules.
Wen also held a separate meeting with Javier Solana, the secretary-general of the Council of the European Union and High Representative for Common Foreign and Security Policy on Wednesday.
Wrapping up his visit to the EU headquarters, Wen yesterday flew to Rome to continue his five-nation European trip.
Today's Top News
Top China News

Sino-EU partnership advances to new level




300 out of SARS quarantine in Beijing, Anhui




Bush apologizes, says Rumsfeld will stay




Hu: Growth hurdles 'need our attention'




Trapped holidaymakers rescued from island




Bin Laden said to offer gold for killings