Net offers escape for lonely hearts
By Han Lei (China Daily)
Updated: 2004-05-06 10:25
Finding romance can be daunting for many young people, but the Internet provides them with an approachable way of meeting possible love interests.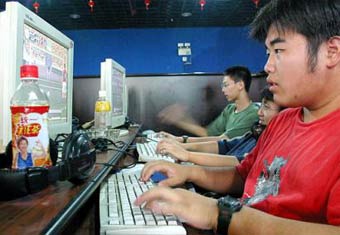 Chinese youths play an online football game at an internet cafe on Thursday, July 24, 2003 in Shanghai, eastern China. China had 68 million Internet users as of the end of June, 8.9 million more than half a year ago, Xinhua News Agency reported. [AP]
"As far as I know, many of my classmates and friends have online friends of the opposite sex, some have even made online girlfriends or boyfriends," said Han Xu, an English major studying at Tianjin University. "They often call each other "lao po" or "lao gong," which means "wife" or "husband."
Today, "Net-love" is a common word among many young Chinese. Among the up to 80 million netizens in China, 32.2 per cent of them say they surf the Internet to make friends or just have fun.
Jian Hua, a graduate student from Beijing Normal University, first met his girlfriend Chang Jing online. They began dating after chatting for a while on the Internet.
"We found we are also a perfect match in the real world. So we extended our online relations into a serious one in the real world," said Jian.
His girlfriend is currently in the United States working on a master's degree. Online chats are the best way for them to keep the chemistry alive.
"We chat online almost every day. We cannot afford the expensive long-distance calls, but we are really lucky because we can find plenty of free Internet-chatting tools," Jian said.
While some may turn virtual relationships into real ones, as Jian and his girlfriend did, the bulk of Internet relationships end on a sour note.
"I think 99 per cent of online romance come to an end when the lovers meet each other in the real world," said a student at the Beijing-based University of International Business and Economics, who goes by the online name "Butterfly."
To cater to netizens' increasing desire to make friends, match-making services have blossomed on major Chinese portal websites. Both Sina.com and Netease.com have clubs called "Super men and women," while Sohu.com has its "passion community." These clubs have much in common since their main goal is to help people make friends and tens of thousands have registered to give it a try.
But some young people are weary of virtual romance.
"I only use Internet chatting tools as a way to get in touch with my good friends. I never chat with strangers on the Net," said Xiao Yang, a 26-year-old employee with a government agency.
Xiao said she was once a "victim" of online match-making.
Several months ago, Xiao found out that someone stole her picture from an online alumni directory and posted on a match-making website.
"I wrote to tell the editors of that website that my picture had been stolen and asked them to take it off, but I never got any response," complained Xiao.
Today's Top News
Top China News

Audits target nine giant SOEs




Wen ends German visit, arrives in Brussels




Net offers escape for lonely hearts




LegCo 'no' to motion on Tung report




Beijing SARS patient leaves hospital




17 suspects detained after attack in Pakistan