Bush annoyed with Rumsfeld over Iraq abuse
(Agencies)
Updated: 2004-05-06 09:25
US President Bush, compelled to publicly condemn the abuse of Iraqi prisoners in interviews on Wednesday, has privately expressed annoyance to Defense Secretary Donald Rumsfeld over his handling of the issue, aides said.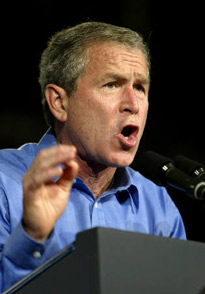 "The president was not satisfied with the way he was informed with regard to the pictures, and he let Secretary Rumsfeld know about it too," a senior aide said. [Reuers]

Bush knew of the allegations in general terms around the time the U.S. military issued a statement about them in mid-January, but aides said he only learned how severe the abuse had been a week ago when CBS broadcast photographs showing Iraqi prisoners in humiliating poses.

The aides said the president had complained to Rumsfeld for not having fully alerted him to the details.

"The president was not satisfied with the way he was informed with regard to the pictures, and he let Secretary Rumsfeld know about it too," a senior administration official said. "He believes it's better to make it known privately instead of pointing fingers."

The pictures were taken by some of the six soldiers now facing court-martial for abusing prisoners. They have been splashed across newspapers around the world ever since and damaged U.S. credibility.

Bush mounted an extraordinary effort to quell Arab anger by granting interviews on Wednesday to two Arab-language television networks.

The United States revealed on Tuesday that 25 prisoners have died in Iraq and Afghanistan in U.S. custody, including two Iraqi prisoners murdered by Americans and one ruled a justifiable homicide. Twelve were found to have died by natural or undetermined causes and 10 are being investigated.

Rumsfeld is due to discuss the prison scandal in front of the Senate on Friday in what Republican aides said was likely to be a "brutal" hearing.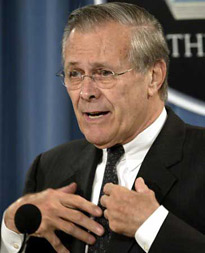 Defense Secretary Donald Rumsfeld said on May 5, 2004 the 'any American' felt apologetic for abuses of Iraqi prisoners by U.S. soldiers but stopped short of offering a direct apology himself. [Reuters]

One Senate Republican aide said some senior administration officials thought Rumsfeld would lose his job over the matter, although few lawmakers were openly calling for Rumsfeld's departure.

"He'll be in the hot seat, there's no doubt about it," an aide said. "You rarely see people on both sides of the aisle this intense."

Bush's presumptive opponent in the Nov. 2 election, Democrat John Kerry, told reporters in Los Angeles that "the response by the administration, certainly the Pentagon, has been slow and inappropriate."

He suggested Bush had not gone far enough in showing remorse.

"The world needs to hear from the president that the United States of America regrets any kind of abuse of this kind or any kind of effort like this because we have to show the world we are willing to correct our own mistakes," he said.

Bush was not pressed for an apology in the interviews with Alhurra and Dubai-based Al-Arabiya, and nor did he offer one. National security adviser Condoleezza Rice expressly apologized on Tuesday.

"The president is sorry for what occurred and the pain that it has caused," said White House spokesman Scott McClellan said.

White House officials said Bush told Rumsfeld in January that he wanted the matter investigated fully. But it was unclear if Bush asked further questions in the months before the case blew up into the public eye last week.

"The precise nature of what occurred had only come to our attention more recently," said McClellan.

McClellan, at an morning briefing, said Bush "absolutely" had full confidence in Rumsfeld. But in an afternoon briefing he sidestepped a question as to whether Bush was satisfied with the steps Rumsfeld had taken to deal with the crisis.

"He believes that they are taking appropriate action to address the matter, and that they're looking fully at whether or not there's a systemic problem beyond the actions of the few that we have already been made aware of," he said.

Bush was asked about Rumsfeld's handling of the crisis in the interview with Alhurra.

"Of course I've got some confidence in the secretary of defense, and I've got confidence in the commanders on the ground in Iraq," he said.
Today's Top News
Top World News

Audits target nine giant SOEs




Dr Sun's grandson in history call to young




SARS patient discharged from hospital




Bush annoyed with Rumsfeld over Iraq abuse




Greece starts 100-day sprint as Games loom




Sino-German co-operation hailed