Bombs rock central Athens police station
(Agencies)
Updated: 2004-05-05 11:28
Three time bombs exploded outside a central Athens police station early Wednesday, doing heavy damage to the building but causing no serious casualties, a police official said.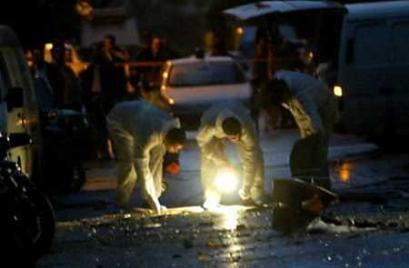 Greek police scour the area of triple bomb blasts early in Athens which took place exactly 100 days before the start of the Athens Olympic Games on May 5, 2004. The early morning blasts were outside a police station in an Athens suburb. [Reuters]

Authorities had cordoned off the area around the station in Kalithea after an anonymous caller warned a newspaper about them, the official said.

"The first two explosions went off in a span of five minutes. The third exploded half an hour later as bomb experts were still looking for it," the police official told Reuters.

"The caller had given police only ten minutes to find the bombs." An ambulance was called for one policeman slightly hurt by the third blast.

The explosions at the back of the police station caused heavy damage to the building and its garage.

Kalithea is near hotels to be used by Olympic officials during the August 13-29 Olympic Games (news - web sites). Fears have been running high that the games could be a target of political violence and security forces have been put on high alert.

"The police are treating this matter very seriously with only three months to go until the games," the official said. "You have three sophisticated time bombs going off outside a police station, that's serious enough for police."

The number of bomb attacks in Greece had decreased after the dismantling of the guerrilla group November 17 in 2002.
Today's Top News
Top World News

U.S. reveals Iraqi prisoner deaths as scandal grows




Dr Sun's grandson in history call to young




Pakistani blast victims recover




Sino-German co-operation hailed




SARS patient discharged from hospital




Sewage spill causes massive fish losses