U.S. reveals Iraqi prisoner deaths as scandal grows
(Agencies)
Updated: 2004-05-05 09:20
Two Iraqi prisoners were murdered by American soldiers, and 23 other deaths are being investigated in Iraq and Afghanistan, the United States revealed Tuesday as the Bush administration tried to contain growing outrage over the abuse of Iraqi detainees.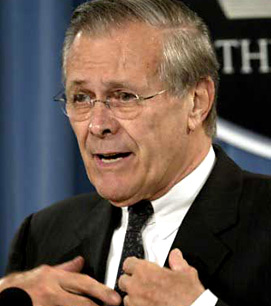 U.S. Secretary of Defense Donald Rumsfeld addresses a news conference at the Pentagon, May 4, 2004. The Bush administration tried to contain growing outrage over the abuse of Iraqi prisoners, calling it 'unacceptable and un-American,' as officials revealed that Americans had murdered at least two detainees. [Reuters]

"The actions of the soldiers in those photographs are totally unacceptable and un-American," Pentagon chief Defense Secretary Donald Rumsfeld said of humiliating images in the media of Iraqi prisoners.

"Any who engaged in such action let down their comrades who serve honorably each day and they let down their country," Rumsfeld said.

Army officials said the military had investigated the deaths of 25 prisoners held by American forces in Iraq and Afghanistan and determined that an Army soldier and a CIA contractor murdered two prisoners. Most of the deaths occurred in Iraq.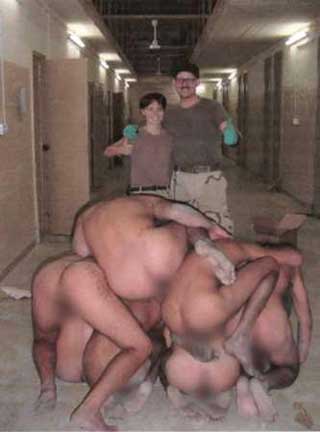 Two American soldiers pose next to a pyramid of naked Iraqi prisoners, at Abu Ghraib prison near Baghdad, in this undated photo. [Reuters]

An Army official said a soldier was convicted in the U.S. military justice system of homicide for shooting a prisoner to death in September 2003 at a detention center in Iraq.

The official, speaking on condition of anonymity, said a private contractor who worked for the CIA was found to have committed the other homicide against a prisoner.

U.S. Secretary of State Colin Powell, at the United Nations for consultations on the Middle East, said only a "small number" of American troops had been involved in the abuse and vowed wrongdoers would be brought to justice.

"I can assure you that no stone will be left unturned to make sure that justice is done and to make sure that nothing like this ever happens again," he said.

U.S. President Bush, campaigning in Ohio, did not mention the abuse but his National Security Adviser Condoleezza Rice again said the president was disgusted and outraged and had demanded those responsible be held accountable.

"The president has told the secretary of defense that he expects people to be held accountable, and that he wants, too, to know that this is not a systemic problem," Rice said. White House spokesman Scott McClellan told reporters traveling with the president that Bush became aware of the allegations of abuse at the prison some time after the incidents occurred, late December or early January.

NEW ALLEGATIONS

Six U.S. soldiers have been reprimanded and six others face criminal charges in connection with abuses at the Abu Ghraib prison outside Baghdad, but Iraqi prisoners have complained of inhumane treatment by U.S. troops at other centers as well. The allegations first surfaced on Jan. 13 but were only made public last week.

The new U.S. commander overseeing military-run prisons in Iraq, Maj. Gen. Geoffrey Miller, said there are an estimated 8,000 detainees, about half of them at Abu Ghraib. The two other main prisons are at the southern port city of Umm Qasr and at the Baghdad International Airport, The Washington Post reported on its Web site.

Miller said the U.S. military runs 11 other detention facilities in Iraq where prisoners can be held for up to 14 days before a decision is made to release them or transfer them to one of the three main prisons, the newspaper said.

Images of Iraqis prisoners stripped of their clothes and being humiliated and abused have badly damaged U.S. prestige and credibility, especially in the Arab world. They have severely dented the U.S. argument that it invaded Iraq to bring democracy and human rights to a nation brutalized by a vicious dictator, former President Saddam Hussein.

Shocking excerpts from a report on the abuse completed on March 3 by Maj. Gen. Antonio Taguba were likely to further stoke fury at home and abroad.

"Between October and December 2003, at the Abu Ghraib Confinement Facility (BCCF), numerous incidents of sadistic, blatant, and wanton criminal abuses were inflicted on several detainees," the report said.

"This systemic and illegal abuse of detainees was intentionally perpetrated by several members of the military police guard force (372nd Military Police Company, 320th Military Police Battalion, 800th MP Brigade), in Tier (section) 1-A of the Abu Ghraib Prison (BCCF)."

Taguba said several detainees had credibly described acts of abuse, including:

* Breaking chemical lights and pouring the phosphoric liquid on detainees

* Beating detainees with a broom handle and a chair

* Sodomizing a detainee with a chemical light and perhaps a broom stick

* Arranging naked male detainees in a pile and then jumping on them

* Forcing detainees to remove their clothing and keeping them naked for several days at a time

* Forcing groups of male detainees to masturbate themselves while being photographed and videotaped

On Capitol Hill, angry Republicans and Democrats denounced the abuses. The Senate Intelligence Committee scheduled a closed hearing for Wednesday.

"The prisoner abuse is so disgusting, so degrading, that I think humanity has been hurt broadly," said Senate Majority Leader Bill Frist, a Tennessee Republican. He said it could undercut U.S. efforts to bring democracy to Iraq.

Sen. John McCain, an Arizona Republican and committee member who was a prisoner of war in Vietnam, joined many lawmakers in complaining that Rumsfeld and other top Pentagon officials failed to inform U.S. Congress of the wrongdoings.
Today's Top News
Top World News

US lawmakers say new abuse photos even worse




Wen pushes for Irish partnership




Taiwan spy sentenced to 5-year in prison




Separation means dead end for Chen




Corruption's long and winding road




Two more US soldiers face court-martial