Pakistani blast victims recover
By Xiao Qin (China Daily)
Updated: 2004-05-05 08:37
Chinese engineers injured in a car bomb explosion in Pakistan on Monday are now said to be out of life-threatening danger, sources said yesterday.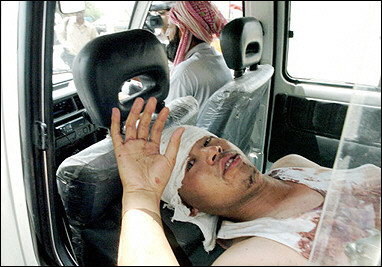 An unidentified Chinese national looks out from an ambulance at a hospital in Karachi after he was injured in a car bomb explosion. [AFP]

Meanwhile, two suspects have been detained in the bombing attack that killed three Chinese engineers and wounded nine others, Karachi police said yesterday, according to Xinhua News Agency.

The two Pakistani nationals are under interrogation in Gwadar, the police said, without giving more details.

The bomb explosion occurred on Monday morning as the dozen Chinese engineers were being transported in a passenger van to the port city ofGwadar, about 500 kilometres west of Karachi.

A car parked on the side of the road blew up as the van passed by.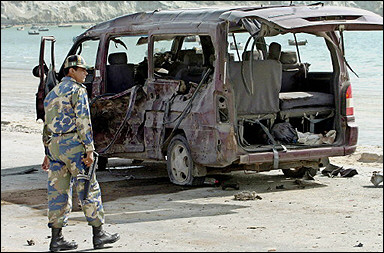 A Pakistani naval guard passes by a damaged van in Gwadar a day after the vehicle carrying 12 Chinese engineers and technicians was hit by an explosive-laden Suzuki Alto vehicle detonated by remote control. [AFP]

Leaders of the China Harbour Engineering Company, for whom the engineers worked, were expected to arrive in Karachi last night, a staffer with the company's office in Karachi said yesterday by telephone.

Relatives of the victims have been informed and might fly to Karachi, too, he indicated.

The Ministry of Health will send a medical team to Pakistan to help treat the wounded, a report on China Central Television indicated.

Three of the injured engineers have recovered well and are about to leave hospital, the engineering company spokesman said.

Chinese President Hu Jintao yesterday urged the Ministry of Foreign Affairs and Chinese diplomatic missions to do all they can to ensure the safety of Chinese citizens in Pakistan.

Hu extended condolences to the families of those killed and to the injured and their families. Premier Wen Jiabao also extended condolences.

In his letter to Hu, Pakistani President Pervez Musharraf conveyed condolences to the families of the victims and strongly condenmed the barbaric act of terrorism.
Today's Top News
Top China News

U.S. reveals Iraqi prisoner deaths as scandal grows




Dr Sun's grandson in history call to young




Pakistani blast victims recover




Sino-German co-operation hailed




Sewage spill causes massive fish losses




Traditional medicines used to fight AIDS