3 engineers killed in car bomb in Pakistan
(Agencies)
Updated: 2004-05-03 14:43
A car bomb in southwest Pakistan Monday has killed three Chinese engineers helping to build a multi-million dollar seaport and injured 11 others, police and hospital officials say.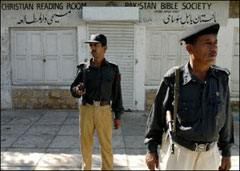 An apparent car bomb in southwest Pakistan has killed three Chinese engineers helping to build a multi-million dollar seaport and injured 11 others, police and hospital officials say. Here Pakistani policemen [AFP/File]

The blast, described by police as a "terrorist act," is the first attack against foreigners in Pakistan since a spate of bloody strikes in 2002 by Islamic militants furious at the United States-led attacks on Afghanistan's Taliban regime and Pakistan's support of the campaign.

Monday's blast occurred at around 9:00 am (0400 GMT) as 12 Chinese engineers were being transported by passenger van to the port in Gwadar, on the Arabian Sea coast near the Iranian border some 480 kilometers (300 miles) west of Karachi.

A car parked on the side of the road blew up as the van passed.

"A parked Suzuki Alto blew up when the van carrying Chinese officials to their work passed by," a senior police officer told AFP, asking not to be identified.

A bomb may have been detonated by remote control, the police officer said.

"Three Chinese are dead while six others are seriously injured," the head of the Gwadar Civil Hospital, Masood Ahmed, told AFP by telephone.

Two Pakistanis, a driver and a security guard, were among the injured, Ahmed said. Six of the nine injured Chinese were in a serious condition, he added.

China, Pakistan's oldest and closest ally, is financing some 80 percent of the 248 million dollar port project.

The China Engineering Harbour company, overseeing the port's development, has some 450 engineers and technicians working in Gwadar.

The port, due to be completed next year, is one of Pakistan's largest and most important foreign investment projects as it struggles to convince overseas investors that it is safe.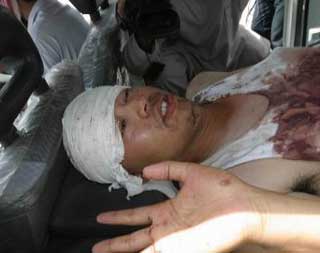 An injured Chinese engineer was carried to hospital in Karachi, Pakistan April 3. A car bomb blast killed three Chinese engineers and injured 11 others in a southwestern Pakistani port [Xinhua]

Pakistan, Afghanistan's eastern neighbour and a frontline US ally in the war on terrorism, was blighted by a chain of bloody attacks on Christian and Western targets in 2002.

Suicide car-bombers struck twice in Karachi, a hotbed of Islamic militancy, killing 11 French naval technicians in May of that year and 14 Pakistanis outside the US consulate a month later.

The Frenchmen had been helping Pakistan's navy develop an advanced submarine, the Agosta B-90, at the city's naval dockyards.

Like the Chinese engineers, they were on board a bus which took them regularly to work, at the same time and along the same route each day, when a suicide bomber rammed his explosives-laden vehicle into their bus.

The attack in Gwadar comes two days after five Westerners working for a Swiss-Swedish oil and engineering company were shot dead by Islamic militants in the Saudi port of Yanbu.
Today's Top News
Top China News

Henan using traditional medicines to fight AIDS




Funds for poor areas to surge this year




Premier makes first visit to Germany




Basic Law distortion led NPC to step in




3 engineers killed in car bomb in Pakistan




Kevin Garnett wins first NBA MVP award