Officials, experts differ on growth
By Michael A. Lev (Chicago Tribune)
Updated: 2004-05-03 11:34
They loom over the cityscape like invading flocks of mechanical beasts--scores of towering construction cranes nesting in every direction. Several thousand dot the horizon of China's capital, making it a contender for the title of world's largest building site.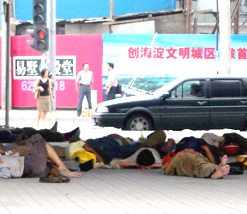 Workers take a nap on the street besides a construction site in Beijing's Haidian District. [newsphoto]

Government officials estimate 1 million construction workers are on the job in Beijing, spread across thousands of projects. Condominiums, office blocks, luxury hotels, shopping malls: All are going up in the frenzied rush of a giddy economic boom, fueling fears that this is the most indulgent, overly optimistic speculative fever since the American Internet debacle or the great real estate crash of Japan.

Beijing already has one new ghost town, a redeveloped street of shopping malls that stands empty and unwanted just south of Tiananmen Square.

Yet this is China, the newly dominating factory to the world, not an illusory investment scheme. The country is churning out real goods and attracted $57 billion in foreign investment last year. The national economy is growing at a dynamic 10 percent clip, creating new wealth so quickly that Beijing residents bought 82 percent more cars in January compared to a year earlier.

So maybe this is what a country in a hurry is supposed to look like.

The debate over investment in China--is it an exciting boom or a dangerous bubble?--has become the economic obsession of the moment, the equivalent of the passions and significance to Americans' worries about outsourcing and whether jobs being shipped to China and elsewhere are lost forever or will be replaced by better ones.

Because many investment bubbles aren't recognized until they burst, experts and officials cannot say for certain whether the economy is overheating and at risk of crashing.

Economists are defending the rapid growth, saying there is no crisis afoot. In a report to clients Friday, Jonathan Anderson of UBS Securities stated unequivocally, "The economy is not spinning out of control."

But the government clearly is unnerved by some of what it is seeing: bank lending is up 20 percent; investment in factories and infrastructure has increased this year by 40 percent. China, which accounts for 4 percent of global gross domestic product, by one estimate consumed 40 percent of the world's concrete last year.

Sounding alarm bell

"Everybody should control himself," Wu Xiaoling, vice governor of the central bank, said at a recent economic conference. "We need efforts both at the central government level and the local" level to tame the overheating economy.

China's state-run media said Wu sounded "worried" that companies and local governments have gotten carried away with investing in new projects, many of which seem like a waste of resources.

"If we come to a point when the central bank has to take tough measures, that will not be good for anyone," Wu warned, apparently referring to raising interest rates or readjusting the currency.

But the government believes either move could prove too risky because each could dampen growth too quickly or lead to economic volatility.

But doing not enough could lead to debilitating inflation and an eventual crash.

The need to get the pace of development just right may be more critical to China's government than any other in the world. It is generally agreed that the country needs sustained economic growth of at least 7 percent to cover the enormous cost of completing the transition from a state-run economy to the private enterprise system.

There are tens of millions of workers clinging to dying state-owned factories and hundreds of millions of peasants in the moribund countryside who need to be cared for while China completes its decades-long restructuring into a modern, viable nation.

A crash could destroy the real estate market, wreak havoc with already weak banks, throw millions of people out of work, cast the farmers into deprivation and lead to the one crisis China's government fears most: social unrest.

The rest of Asia, which has come to rely on China as both a factory source and a growing market, also is concerned because the growth seems to mirror the frivolous atmosphere of the region in 1997, just before the Asian currency crisis, which nearly bankrupted South Korea and set back other markets including Indonesia, Thailand and Hong Kong.

The scenarios are "eerily familiar" and "equally scary," Vikram Khanna, a columnist for Business Times in Singapore wrote last week.

The difference between China now and Asia in 1997, as Khanna noted, is that China's government recognizes it has a problem to manage, whereas the currency crisis struck out of the blue because everybody believed Asia had become an unstoppable lion.

Avoiding a meltdown

China's government seems committed to cooling the economy.

For the third time in seven months it has ordered banks to increase the amount of money they set aside as reserves on loans. And there were reports, denied by officials, that the government on Thursday ordered a halt to all new lending for several days as either a shock action or a delaying move until further regulations could be announced. Some reports said an interest rate hike is coming.

In another dramatic statement, the government said last week that it had jailed or fired a dozen executives and officials in a town outside Shanghai for ramming through a $300 million expansion project at a steel plant. They were charged with forging loan documents, illegally confiscating farmland and skirting environmental regulations, but they clearly were being held up as examples of a new sort of villain: the reckless investor.

"All local governments should halt constructing repetitive, low-level projects and stop investing blindly," said People's Daily.

One of the major problems with the Chinese economy is that it still is controlled by the government rather than market forces, with too many investment decisions made according to political demands instead of what is profitable. That is how China ends up with too much steel production, or too many shopping malls.

In Beijing, local officials looked at a neighborhood south of Tiananmen Square and saw what they thought was a bright future: a street where gleaming glass shopping centers should stand on a newly widened boulevard. They leveled a mile-long neighborhood, casting out thousands of residents and built two years ago a new shopping center that nobody seems to need.

Of 14 retail projects, 12 are empty.

At the Metropolitan Sportswear Street mall, which was supposed to specialize in selling recreational and athletic goods, the government sold individual stores to retailers and investors, many of whom figured they could rent or resell their space.

But there was no marketing plan created for the mall, and the city already has a horde of new retail outlets. So the investors are stuck with worthless square footage. About 90 percent of the stores never opened. For the few that did open for business, it's a lonely existence. The escalators are turned off, dust floats in hallways and a new parking lot is empty.

"All we can do is wait," said Wang Jin, who spent $160,000 for her space, a Ping-Pong supply store that she now runs as a wholesale shop. If that had been her plan, there were far cheaper places she could have bought.

From cold to hot

It's a different scene a few blocks away, where thousands of condominiums are under construction at a dozen new complexes. So far, people are not worried about a glut. For example, Nolita Village, a 1,600-unit complex, has nearly sold out even before construction is completed.

"There are a lot of apartments being built, it's true, but people's living standards keep going up," said one Nolita resident, a corporate manager married to a doctor. "A lot of people here are like us. We already own several different apartments across the city."

The consensus--and hope--among economists is that China will be able to take the edge off and steer the economy to a soft landing, meaning a growth rate closer to 7 percent than to 10 percent. They note that China managed its way through another period of red-hot growth in 1993-94, when inflation soared to 20 percent, compared with 3 percent now.

Jun Ma of Deutsche Bank in Hong Kong said the government is adopting sensible measures to control growth, and there is nothing unsustainable about 8 percent to 10 percent economic growth. Japan, South Korea and Taiwan did it for years in their early days.
Today's Top News
Top China News

Henan using traditional medicines to fight AIDS




Officials, experts differ on growth




3 engineers killed in car bomb in Pakistan




New investors sought for urban utilities




Marriages on May Day all the rage




Premier Wen begins official visit to Germany