11 troops die in Iraq; contractor escapes
(Agencies)
Updated: 2004-05-03 09:54
In a daring escape, American hostage Thomas Hamill pried open the doors of the house where he was being held late Sunday morning and ran a half-mile to a military convoy that was passing by, officials and his wife said. Insurgents attacked U.S. forces across Iraq, killing 11 Americans.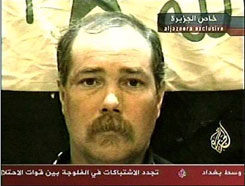 Thomas Hamill, an American civilian captured April 9, 2004, during an ambush of a convoy west of Baghdad, is shown in this undated image from a videotape given to the Al-Jazeera television network. Hamill was found by U.S. forces Sunday, May 2, 2004, south of Tikrit, Iraq, after he apparently escaped from his captors, the U.S. military said. [AP]

Hamill, 43, of Macon, Miss., identified himself to the U.S. soldiers, then led them back to his Iraqi captors, two of whom were captured.

Hamill, a truck driver for a Halliburton Corp. subsidiary, escaped more than three weeks after being abducted April 9 by gunmen who blasted the convoy he was driving on the outskirts of Baghdad. An American soldier abducted in the same attack remains missing, and at least four of Hamill's co-workers were killed.

Hamill had not been heard from since the day after the attack, when his kidnappers released a video of him standing in front of an Iraqi flag and threatened to kill him within 12 hours unless the United States ended its siege of Fallujah, 35 miles west of Baghdad.

Hamill's escape came two days after Marines started pulling back from Fallujah under a new agreement ending their assault on the insurgent stronghold.

Hamill's wife, Kellie, was called at about 5:50 a.m. CDT with news of his escape and later spoke to her husband.

"He sounded wonderful, so wonderful. He said he was fine," she told The Associated Press from their Mississippi home. "He said he was more worried about his mom, his grandmother, me and our kids."

Meanwhile, 11 soldiers were killed in separate attacks, the military said, raising the U.S. death toll to 151 since a wave of violence began April 1. At least 753 U.S. troops have died in Iraq since the war began in March 2003.

Six U.S. service members were killed and another 30 were wounded in a mortar attack near the western city of Ramadi.

The city is about 60 miles west of Baghdad in Anbar province, which includes Fallujah. A military spokeswoman gave no further details and did not say whether the victims were Marines or Army soldiers, but most Americans stationed there are Marines.

Another U.S. soldier was killed and 10 were wounded in a bomb and small arms attack on a coalition base near the northern Iraqi city of Kirkuk.

Overnight, Shiite militiamen attacked a U.S. convoy with small arms fire and rocket-propelled grenades near the southern city of Amarah, 180 miles south of Baghdad. Two soldiers were killed, the military said. Through the night and into Sunday morning, Iraqis set fire to the long line of abandoned vehicles, jumping on the hoods and beating them with sticks.

An attack in northwest Baghdad killed two other soldiers and wounded two Iraqi security officers and another American, the military said.

U.S. troops also exchanged gunfire Sunday near Najaf with militiamen loyal to radical Shiite preacher Muqtada al-Sadr, who is charged in the murder of a rival cleric last year.

In the southern city of Basra, a mortar shell exploded late Sunday near the headquarters of the traffic police, killing one civilian, police Lt. Col. Ali Kadhim said. Minutes later, gunmen killed a policeman at a checkpoint, he said. It was unclear if the attacks were coordinated.

Hamill was discovered at about 11:15 a.m. local time when he approached a patrol from the 2nd Battalion, 108th Infantry, part of the New York National Guard, in the town of Balad, about 50 miles north of where he was abducted, the western Baghdad area of Abu Ghraib.

Kellie Hamill said her husband said he was locked in a building and heard the troops driving by. He "pried the door open. He said he ran half-a-mile down the road and caught up with the convoy.

"Isn't that something?" she said.

Soldiers then went back to the house and arrested two Iraqis and confiscated an AK-47 rifle, the military said.

Thomas Hamill, a truck driver working for KBR ¡ª a Halliburton subsidiary formerly known as Kellogg, Brown & Root ¡ª had an infected gunshot wound in his left arm and was flown by helicopter to Baghdad, said Maj. Neal O'Brien, a spokesman for U.S. troops in nearby Tikrit. The video images of Hamill soon after his abduction showed his left arm in a sling, suggesting he was wounded during the attack on his convoy.

"He has spoken to his family. He is now ready to get back to work," U.S. Brig. Gen. Mark Kimmitt said in Baghdad.

In a statement on its Web site, Halliburton said, "Tommy is a courageous hero and we are proud of his resolve, resilience and refusal to give up hope."

Hamill's abduction came at the height of the wave of kidnappings of foreigners sparked by the intense violence that began a month ago. Up to 40 people from several nations were abducted, though most were later freed. One hostage, an Italian, was executed by his captors.

An American soldier, Pfc. Keith M. Maupin, remains in the hands of kidnappers, as do three other Italian security guards.

Maupin, who grew up near Batavia, Ohio, and Hamill were in the same convoy that came under attack in Abu Ghraib amid an insurgent campaign against supply routes around the capital.

Besides Hamill and Maupin, six other KBR employees and another U.S. soldier initially were reported missing.

The bodies of four KBR employees were later found in a shallow grave near the site of the attack. The body of Sgt. Elmer Krause, of Greensboro, N.C., also was found.

Halliburton said in its statement that it still had no information on the two KBR employees still missing.

Hamill, a dairy farmer who signed on with KBR in Iraq to pay off debts, was filmed as he was being abducted. The insurgents allowed an Australian camera crew to film him in the back seat of the gunmen's car. Hamill identified himself before the car sped off.

The next day, the Arab television station Al-Jazeera showed the video of Hamill standing in front of an Iraqi flag.

"Our only demand is to remove the siege from the city of mosques," one kidnapper said in the tape. "If you don't respond within 12 hours ... he will be treated worse than those who were killed and burned in Fallujah."

That statement was a reference to four American security contractors who were killed and mutilated in Fallujah on March 30.

Marines were replaced on the south side by a newly created Iraqi brigade that the Americans said would root out die-hard guerrillas.

The new brigade is led by a former Saddam Hussein-era general and consists largely of former soldiers ¡ª including some who probably took up arms against the Marines during last month's siege.
Today's Top News
Top World News

New investors sought for urban utilities




No new SARS cases reported




Marriages on May Day all the rage




Premier Wen begins official visit to Germany




Iraqi prisoner details abuse by Americans




22 laws, regulations take effect