Sharon party spurns his Gaza plan
(Agencies)
Updated: 2004-05-03 09:34
Israeli Prime Minister Ariel Sharon vowed to remain in office and refrained from declaring his proposed Gaza pullback dead despite his right-wing Likud party's stinging rejection of the U.S.-endorsed plan.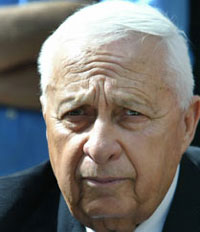 Israeli Prime Minister Ariel Sharon says he intends to continue leading the country. [AP]

"I intend to continue to lead the state of Israel the best way I know how, in accordance with my conscience and public duty. It is not an easy task -- but I intend to carry it out," Sharon said on Sunday, acknowledging defeat in the referendum.

"One thing is clear to me -- the Israeli people did not elect me to sit on my hands for four years."

But political analysts said Sharon, dealt his strongest setback since taking office in 2001, was certain to be weakened after failing to quell a revolt by hardline Likud members unwilling to give up land captured in the 1967 Middle East war.

Partial official results reflected what Israeli television radio and television polls showed was a 60 percent 'no' vote on the plan to uproot all Jewish settlements in the Gaza Strip and four of the 120 in the West Bank.

Political analysts said opposition to the plan may have been boosted by Likud rank-and-file outrage over an ambush just hours earlier in which Palestinian gunmen killed a pregnant Jewish settler and her four daughters in the Gaza Strip.

Israel struck back swiftly, launching an air strike on a Hamas target in Gaza City. Helicopter-launched missiles killed four militants in the West Bank city of Nablus.

In his statement, Sharon voiced regret that his own party had turned against his pullout plan and said he "respected" the result. But he also pointed to what he said was heavy support for the proposal among the Israeli public at large.

Vice Premier Ehud Olmert told reporters the prime minister had no intention of abandoning the "disengagement" blueprint which Sharon has said would boost security for Israelis after more than three years of violence with the Palestinians.

In Washington, the White House said that despite the Likud vote, it stuck by its support for Sharon's plan, which it called "a courageous and important step toward peace."

"We will be in consultation with the prime minister and the government of Israel about how to move forward," White House spokesman Scott McClellan said.

CONSULT ON NEXT MOVE

"In the coming days, I will hold consultations with cabinet ministers, the Likud faction and coalition factions and I will examine carefully the ramifications (of the vote) and the steps we intend to take," Sharon said in the statement.

But commentator Aluf Benn, writing in the Haaretz daily on Monday, said Sharon -- whom he described as having viewed his now-victorious Likud opponents as "a band of dwarfs" -- would find it hard to breathe new life into the pullout plan.

"(Sharon) will have difficulty getting a majority to vote in favor inside the cabinet, and he is likely to meet opposition even if he turns to a "bypass the party" general referendum," Benn wrote.

Sharon's unilateral approach also calls for holding on to larger West Bank settlement blocs containing the majority of Jews on territory Israel has occupied for the past 37 years.

U.S. President Bush backed the plan at an April 14 news conference with Sharon, and drew Arab outrage by coupling his endorsement with a statement that Israel could not be expected to give up all occupied land or accept any return of Palestinian refugees to what is now the Jewish state.

Palestinian cabinet minister Saeb Erekat called on Bush to cancel those guarantees following the Likud vote.

The Palestinian Authority rejected the legitimacy of the referendum, saying the Likud had no right to decide on Palestinians' fate.

Gaza settlers who campaigned intensively to defeat Sharon's plan thumped tables with joy when they heard the exit polls, but their happiness was tempered by mourning for the settler family.

The settlers have called a pullout a "reward for terror." But the attack was also likely to reinforce the view of many Israelis that the price of keeping 7,500 settlers in vulnerable enclaves among 1.3 million Palestinians is too high.

Some Sharon critics suggest the prime minister, once considered the godfather of settlement building, proposed the plan in part to deflect attention from corruption scandals swirling around him. He has denied any wrongdoing.
Today's Top News
Top World News

Officials, experts differ on status of surging growth




3 engineers killed in car bomb in Pakistan




New investors sought for urban utilities




Marriages on May Day all the rage




Premier Wen begins official visit to Germany




Iraqi prisoner details abuse by Americans