Iraqi prisoner details abuse by Americans
(Agencies)
Updated: 2004-05-03 09:14
Dhia al-Shweiri spent several stints in Baghdad's notorious Abu Ghraib prison, twice under Saddam Hussein's rule and once under American. He prefers Saddam's torture to the humiliation of being stripped naked by his American guards, he said Sunday in an interview with The Associated Press.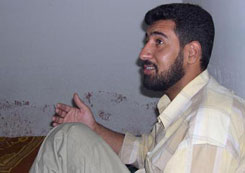 Iraqi Dhia al-Shweiri, 30, gestures as he talks in Najaf, Iraq, Sunday, May 2, 2004, after spending several stints in Baghdad's notorious Abu Ghraib prison, twice under Saddam Hussein's rule and once under American. [AP]

America's top general, Gen. Richard Myers, said Sunday there was no evidence of "systematic abuse" and the actions of "just a handful" have unfairly tainted all American forces.

However, Amnesty International said it has uncovered a "pattern of torture" of Iraqi prisoners by coalition troops, and called for an independent investigation into the claims of abuse.

The 30-year-old al-Shweiri, who used to work in a fabric shop, is a die-hard fighter in the al-Mahdi Army, the fanatic militia of a Shiite Muslim cleric who has vowed to take on the Americans.

Al-Shweiri said that while jailed by Saddam's regime, he was electrocuted, beaten and hung from the ceiling with his hands tied behind his back.

"But that's better than the humiliation of being stripped naked," he said. "Shoot me here," he added, pointing between his eyes, "but don't do this to us."

For months, human rights groups and former prisoners had complained of mistreatment at detention centers but their protests were widely dismissed as politically motivated until the U.S. command started an investigation in January. Six American soldiers are now facing courts-martial.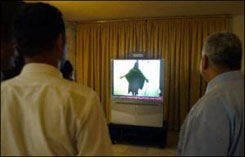 The U.S. military knew troops had abused Iraqi prisoners for months before graphic, humiliating photographs surfaced last week, a journalist who read a U.S. army report says. Here Iraqis at a hotel in Baghdad view Qatari based al-Jazeera satellite channel showing a supposed hooded Iraq prisoner being tortured. [AFP]

The allegations exploded onto the world stage this past week after CBS' "60 Minutes II" broadcast images allegedly showing Iraqis stripped naked, hooded and being tormented by their U.S. captors.

An internal U.S. Army report found that Iraqi detainees were subjected to "sadistic, blatant and wanton criminal abuses," according to The New Yorker magazine.

On Saturday, Britain's Daily Mirror newspaper published a front-page picture of a British soldier apparently urinating on a hooded prisoner. The newspaper said it had been given the pictures by serving soldiers from the Queen's Lancashire Regiment.

Dan Senor, spokesman for the Coalition Provisional Authority, said the U.S. investigation will be full and aggressive. "Careers will be ended and criminal charges are going to be leveled," Senor said on CNN.

Al-Shweiri said he was not surprised to see TV images of smiling U.S. soldiers posing by naked, hooded inmates who, in one photograph, were piled in a human pyramid.

Al-Shweiri, who was arrested by the Americans in October, said he was asked to take off his clothes only once and for about 15 minutes.

"I thought they wanted me to change into the red prison uniform, so I took off my clothes, down to my underwear. Then he asked me to take off my underwear. I started arguing with him but in the end he made me take off my underwear," said al-Shweiri, who was too embarrassed to go into too much detail.

He said he and six other prisoners ¡ª all hooded ¡ª had to face the wall and bend over a little as they put their hands on the wall.

"They made us stand in a way that I am ashamed to describe. They came to look at us as we stood there. They knew this would humiliate us," he said, adding that he was not sodomized.

"They were trying to humiliate us, break our pride. We are men. It's OK if they beat me. Beatings don't hurt us, it's just a blow. But no one would want their manhood to be shattered," he said.

"They wanted us to feel as though we were women, the way women feel and this is the worst insult, to feel like a woman," al-Shweiri said.

Al-Shweiri's account could not be independently verified.

He said the Americans arrested him along with his father and brother in the Shiite neighborhood of Sadr City in Baghdad, accusing him of belonging to the al-Mahdi Army because he had an automatic weapon in his house and some headbands with Islamic sayings on them. His father and brother were released shortly after the arrest.

Al-Shweiri insisted he wasn't involved in any religious or political group at the time. He worked in a fabric shop in Sadr City, attending Friday prayer sermons at his neighborhood mosque.

He said he felt gratitude to the Americans for toppling Saddam, who had barred many Shiite public gatherings and whose regime arrested al-Shweiri twice.

The first time came 12 years ago, when he was held for 19 months. He was arrested again in 1999 and sentenced to life in prison, charged with belonging to the then-banned Islamic al-Dawa Party, he said. He was freed when Saddam pardoned prisoners at the end of the same year.

"I hated Saddam so much that when the Americans came, I viewed them as liberators. I was happy and supported them. But soon it became clear that they are no liberators but occupiers," he said. "I had seen how oppressed people were under Saddam and I refused to give in to oppression and injustice. We must fight oppression."

When al-Shweiri left American detention, he said his hatred for Saddam was replaced with one for America and two months ago he joined the al-Mahdi Army of radical Shiite cleric Muqtada al-Sadr.

Now with the future of the al-Mahdi Army uncertain, many militiamen are worried. The Americans have demanded the militia be disbanded and that al-Sadr, who is accused of involvement in the death of a rival cleric, turn himself in.

"If Seyed Muqtada orders us to disband, we will. If he orders us to die, we will die. And if he tells us to live, we will live. We have nothing to do with the Americans and what they demand from us," al-Shweiri said.
Today's Top News
Top World News

New investors sought for urban utilities




No new SARS cases reported




Marriages on May Day all the rage




Premier Wen begins official visit to Germany




Iraqi prisoner details abuse by Americans




22 laws, regulations take effect