Premier Wen begins official visit to Germany
(Xinhua)
Updated: 2004-05-03 08:51
Chinese Premier Wen Jiabao arrived in the southern city of Munich Sunday on a three-day official visit to Germany. This is Wen's first visit to Europe since he took office more than one year ago.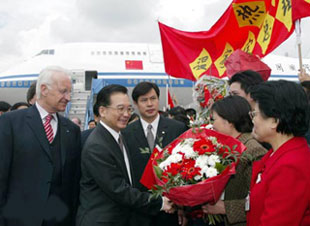 Chinese Premier Wen Jiabao (2nd L) receives welcome upon arrival at an airport in Munich, Germany, May 2, 2004. [Xinhua]


Wen landed at Munich's Franz Josef Straus Airport at around 1:00 p.m. (1100 GMT), from where he went straight to visit a farm and the German automaker Audi AG.

Wen was greeted by Bavarian Minister-President Edmund Stroiber.Upon his arrival at the airport, Wen said in a written statement that great opportunities of development lie ahead for Sino-German relations and he looked forward to holding talks with German Chancellor Gerhard Schroeder and other German leaders on boosting Sino-German and Sino-European relations and exchanging views on major international issues.

Wen said he hoped to meet people from different social sectors in Germany so as to deepen the understanding and friendship between the two countries and peoples, adding that he hoped his visit will boost Sino-German ties.

During his visit, he will meet with German President Johannes Rau, Chancellor Gerhard Schroeder and address a group of German leading businessmen.

In an interview with a German newspaper on April 27, Wen said he aims to boost Sino-German ties, establish a mechanism of cooperation, strengthen consultations on major international issues and expand cooperation in trade, economy and technology.

Wen particularly mentioned he hoped that both sides will forge closer cooperative ties in the high-tech field and establish a mechanism for solving trade disputes.

Since the formal diplomatic relationship was established in 1972, China and Germany have witnessed a smooth development of thebilateral ties and, in particular, frequent exchanges of high-level visits in recent years.

Germany is China's largest economic and trading partner in Europe. The bilateral trade volume totaled 41.8 billion US dollarsin 2003.

Germany is the first leg of Wen's five-nation European tour, which will also take him to Belgium, Italy, Britain and Ireland. He is also scheduled to visit the European Union headquarters in Brussels.
Today's Top News
Top China News

New investors sought for urban utilities




No new SARS cases reported




Marriages on May Day all the rage




Premier Wen begins official visit to Germany




Iraqi prisoner details abuse by Americans




China's IPO boom stretches lawyers to limit