Six westerners killed in Saudi oil office
(Agencies)
Updated: 2004-05-02 10:47
Attackers sprayed gunfire inside a Saudi oil contractor's office Saturday, killing at least six Westerners ! including two Americans ! and wounding at least 25 others. Police killed four gunmen in a shootout after a bloody car chase in which the attackers dragged the naked body of one victim behind their getaway car.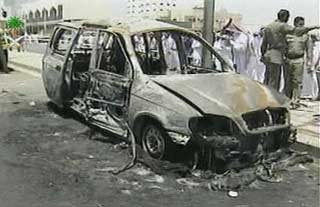 A burned out vehicle in Yanbu, Saudi Arabia, Saturday May 1, 2004, is seen in this image from Saudi television. Four men entered a construction compound and opened fire randomly at local and foreign workers there, before fleeing local police who shot and killed three of them trying to escape in stolen vehicles, according to an official of the Interior ministry. [Reuters]
One of the attackers killed was reportedly on the Saudi kingdom's list of most-wanted terrorists, many of them suspects in last year's suicide attacks on foreign housing compounds in the capital, Riyadh. The two attacks were blamed on al-Qaida, Osama bin Laden's terror network.
Three of the gunmen worked at the contractor's office in the industrial city of Yanbu, 220 miles north of the Red Sea city of Jiddah; they used their key cards to enter the building and sneak another attacker through an emergency gate, according to an Interior Ministry source quoted by the official Saudi Press Agency.
Witnesses told The Associated Press that police engaged in a shootout with the gunmen outside a Holiday Inn before overpowering them on a downtown street. A statement from the Interior Ministry said police killed three attackers and wounded a fourth, who died later.
"Using different arms, they started firing at the offices of the company's personnel before leaving the scene in a hurry to begin attacking a residential compound," the agency quoted the source as saying, giving no further details.
The Interior Ministry statement said the gunmen walked into the offices and "randomly shot at Saudi and foreign employees." The offices are across the street from a petrochemicals plant co-owned by Exxon Mobil and the Saudi company SABIC.
After the attacks, police moved in to secure Yanbu's streets with checkpoints throughout the city, one resident said.
The Saudi Press Agency report said two Americans, two Britons, an Australian and a Saudi National Guardsman were killed. A European diplomat told AP that a second Australian also died, but it was not immediately possible to confirm that.
The last attack that killed Americans in Saudi Arabia was in May 2003, when coordinated suicide bombings at Riyadh housing compounds killed 34 people, including eight Americans. The second Riyadh suicide assault, in November, killed 17 people.
There was no word on the motivation behind Saturday's shootings, but U.S. officials warned in recent weeks of possible attacks against foreigners in Saudi Arabia, an important U.S. ally. A Saudi diplomat called the attack an "indiscriminate evil rampage."
Intelligence has suggested al-Qaida wanted to strike at Saudi oil interests, and bin Laden ! a Saudi exile ! has called for the overthrow of the Saudi royal family and questioned its Islamic credentials.
The U.S. Ambassador to Saudi Arabia, James C. Oberwetter, condemned the attacks and offered condolences to the families of the victims. "The United States appreciates everything the Saudi authorities are doing to fight terrorism, including here in the kingdom," he said in a statement.
Crown Prince Abdullah, speaking on Saudi television, said: "The kingdom will eliminate terrorism no matter how long it takes."
Later, the Saudi Press Agency quoted Abdullah as telling a gathering of princes in Jiddah that "Zionism is behind terrorist actions in the kingdom. I can say that I am 95 percent sure of that."
He said Zionism had misled "some of our sons," but did not elaborate. Anti-Israeli sentiment runs high in Saudi Arabia and elsewhere in the Arab world because of the Israeli-Palestinian conflict.
Saudi TV footage showed one victim lying in the bloody front seat of a sports utility vehicle, his leg dangling out an open door with a rifle nearby and bullets on the floor. He appeared to be wearing a security officer's uniform.
After opening fire in the office, the attackers tied the body of one victim to the back of a stolen car before fleeing, according to a witness who, like all residents reached in Yanbu, spoke on condition of anonymity.
The Web site of the English-language Saudi Gazette reported that the attackers stripped the man naked before tying him to the getaway car and dragging him along a road. The newspaper showed a photograph of one attacker lying in a pool of blood in the middle of a road wearing only black trousers and surrounded by a crowd of Saudi bystanders in white robes.
Mohamed Ghamdi, the Gazette's editor, told AP that the dead man was Abdullah Saud Abu-Nayan al-Sobaie, No. 10 on a list of the kingdom's 26 most-wanted terrorists. The AP was not immediately able to confirm if al-Sobaie was among those killed.
In another, near-simultaneous attack in the city on Saturday, a pipe bomb was thrown over a wall of the Yanbu International School, causing minor damage and slightly injuring a custodian, according to the Overseas Security Advisory Council, which shares security information between the U.S. government and the private sector.
"Staff and children had already been advised not to report to school that morning," said a warden's message posted at the U.S. Embassy's Web site.
The two Americans killed were engineers for ABB-Lummus, the energy arm of multinational engineering company ABB. A British ABB employee, a British contractor and an Australian employee were also killed, spokesman Bjorn Edlund said from Zurich, Switzerland.
The U.S. Embassy also said several Saudi security forces were "killed and wounded in their fight with the terrorists," but gave no numbers.
The Saudi crown prince said 25 people were wounded in the attack. The ABB spokesman said the wounded included two American employees. Diplomats also said two Canadians and a Saudi police captain were among the wounded.
The Saudi Gazette report, which cited Interior Ministry sources and witnesses, said about 50 people were wounded. The Saudi Press Agency said an American, Pakistani and Canadian were injured along with eight National Guard soldiers and 10 security officers.
Saudi Arabia ! the world's biggest oil producer ! relies heavily on 6 million expatriate workers, including about 30,000 Americans, to run its oil industry and other sectors. The kingdom produces about 8 million barrels of oil a day, and a significant disruption could affect markets.
In the summer of 2002, Saudi officials arrested al-Qaida sympathizers who tried to blow up Ras Tanura ! a major Saudi oil terminal and refinery ! and its pipelines.
Saudi security forces have been hunting Islamic militants, resulting in frequent deadly clashes in recent months.
Last month, the United States ordered the departure of nonessential U.S. government employees and family members from Saudi Arabia and also urged private citizens to depart. The embassy warned of "credible indications of terrorist threats aimed at American and Western interests in Saudi Arabia."
Today's Top News
Top World News

New investors sought for urban utilities




No new SARS cases reported




Marriages on May Day all the rage




Premier Wen begins official visit to Germany




Iraqi prisoner details abuse by Americans




22 laws, regulations take effect