US Army Reserve chief condemns abuse
(Agencies)
Updated: 2004-05-02 10:47
The chief of the U.S. Army Reserve condemned the abusive treatment of Iraqi war prisoners Saturday and said he has ordered a study of whether reservists are sufficiently trained in ethical conduct and how to treat prisoners.
Following a meeting with families of the reserve unit at the center of the investigation, Lt. Gen. James R. Helmly said photographs of naked inmates forced to assume humiliating positions beside grinning military police reservists "go against the grain of everything America's Army stands for."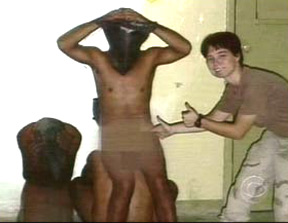 A US soldier makes a thumb-up sign as she ordered one naked Iraqi prisoner of war sit on the back of another. [cbs]
Helmly, commander of 1.1 million reservists, said that if the allegations against six reservists are true, "it undermines our values of respect, dignity and honor, and we hold those values deeply."
The reservists, members of the 372nd Military Police Company of Cresaptown, have been charged with crimes including dereliction of duty, cruelty, assault and indecent acts.
Their boss, Brig. Gen. Janis Karpinski, commander of the 800th Military Police Brigade, and at least seven others have been suspended from their duties at the Abu Ghraib prison near Baghdad, according to the U.S. military.
The New Yorker magazine obtained an Army report that said Iraqi detainees at the prison were subject to "sadistic, blatant and wanton criminal abuses."
Some of the family members said after the closed meeting with Helmly that they worried about their loved ones' safety because the outrage that the pictures, which first aired Wednesday on the CBS program "60 Minutes II," have provoked in the Arab world.
"We were notified that the same pictures that were used on "60 Minutes" now are being displayed on all Iraqi television programs, which probably puts our soldiers at greater risk," said Lora Maddas, whose cousin, Russell Gibbs, is a unit member but was not charged.
Jennifer Bird, 23, said her husband, Spc. Rodney Bird, told her about the investigation months ago. He is not among those charged.
"I think it's awful," she said. "I think it makes them all look bad."
Army Reserve spokesman Al Schilf said questions from the approximately 90 family members at the meeting mainly concerned the unit's extended deployment through early September. About 130 soldiers in the unit had already left Iraq and were preparing to return home last month when their active duty was extended.
Earlier Saturday, the father of one accused reservist, Staff Sgt. Ivan L. "Chip" Frederick II, told NBC's "Today" show that he didn't believe the allegations.
"None of the photos that I've seen has shown my son abusing anybody, which I don't think he ever would," said Ivan L. "Red" Frederick.
President Bush has condemned the mistreatment, saying he shared "a deep disgust that those prisoners were treated the way they were treated."
Today's Top News
Top World News

WHO: SARS outbreak in China no major threat




22 laws, regulations take effect




Law to imrove road situation




Chinese premier sets for Europe visit




NBA legend Michael Jordan to visit China




Six westerners killed in Saudi oil office