WHO: SARS outbreak in China no major threat
(Xinhua)
Updated: 2004-05-02 08:45
The World Health Organization (WHO)announced Friday that it did not view the latest SARS outbreak in China as a major threat to public health since all cases could be traced.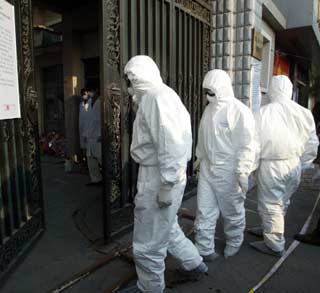 Experts from the World Health Organization and China inspect the Chinese Center for Disease Control and Prevention in Beijing on April 30 for the sources of the recent SARS outbreak. [newsphoto]
Despite the Chinese health ministry's confirmation that a woman in Anhui Province had died of SARS on April 19, WHO spokeswoman Maria Cheng said: "We still don't view this as a major threat to public health because all of the cases so far can still be traced immunologically to the national Institute of Virology in Beijing."
Cheng said although WHO had not been able to sequence or isolate the virus to determine if it was the same strain as last year's, but "We are reassured that we haven't seen this pop up in other regions of the country which are not linked to these people."
So far, the people identified with SARS had very close personal contact with the "index" cases, she said.
While China has updated the number of SARS cases to nine, Cheng said WHO could not technically confirm these new cases because they required external laboratory verification through its international network.
As to a recent victim of SARS who was said to have contracted the disease from working on SARS research at the National Institution of Virology in Beijing, Cheng said, based on the preliminary information received from WHO teams in Beijing, there had been serious breaches in biosafety in these labs.
So far, five SARS cases and four suspected SARS cases have been reported on the Chinese mainland since April 22. Of the five confirmed cases, two were reported in Anhui and three in Beijing. The four suspected cases are now in Beijing.
No new SARS case in past 24 hours
There was no new case of SARS reported in China in the 24 hours from 10:00 May 1 to 10:00 May 2,the Chinese Ministry of Health said Sunday.
Currently, the ministry said Anhui's one confirmed severe acute respiratory syndrome (SARS) patient and Beijing's four confirmed cases, as well as three other suspected cases in Beijing, are all in stable condition and remain isolated at the pointed hospitals for medical treatment.
Among all the people in close contact with the reported SARS cases, 40 people in Anhui province and 68 in Beijing have been freed from medical observation, said the ministry.
Today's Top News
Top China News

WHO: SARS outbreak in China no major threat




22 laws, regulations take effect




Law to imrove road situation




Chinese premier sets for Europe visit




NBA legend Michael Jordan to visit China




Six westerners killed in Saudi oil office