China confirms a new SARS case
(Agencies)
Updated: 2004-05-01 16:55
World Health Organization experts widened their probe of China's SARS cases Saturday, interviewing people at the hospital where lab workers were treated after getting the disease on the job.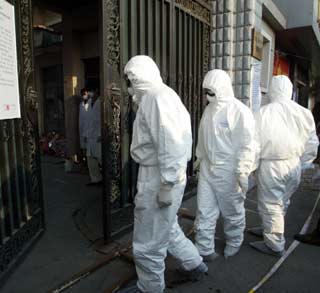 Experts from the World Health Organization and China inspect the Chinese Center for Disease Control and Prevention in Beijing on April 30 for the sources of the recent SARS outbreak. [newsphoto]
So far, China's new cases of the highly contagious ailment are limited to people who worked at Beijing's Institute of Virology - where SARS samples are kept - and others who came in contact with them.
The Ministry of Health said Saturday a lab worker with the family name Yang, who was under quarantine as a suspected SARS case, was confirmed to have the disease.
The announcement raised China's confirmed cases to six. One of the confirmed has died. Another three patients are hospitalized as suspected SARS cases.
WHO is now in China to help nail down exactly what happened.
``It still remains very uncertain, the source of this infection,'' said Dr. Julie Hall, SARS team leader for WHO in Beijing. ``This is going to take some time.''
She said WHO experts visited the SARS lab on Friday and went Saturday to the hospital where two sick lab workers were treated and where a nurse has since come down with the disease.
Hall said WHO's visit to the lab produced few clues. The lab and its equipment are new, she said, and there were no obvious spills reported. Experts will need to interview more researchers at the lab to learn their day-to-day practices and figure out what went wrong, she added.
Meanwhile, millions of Chinese boarding planes and trains for the weeklong May Day holiday were being screened for body temperature to ensure the disease remained contained.
China on Friday confirmed a 53-year-old woman who died last week was the world's first SARS death this year. Her daughter, surnamed Song, worked at the SARS lab and is also a confirmed case.
The other confirmed cases are a nurse who treated the daughter, and the nurse's mother and aunt.
Hundreds of people who had contact with them and the suspected SARS patients are isolated and under medical observation.
SARS, or severe acute respiratory syndrome, sparked a global health crisis last year when it killed 774 people worldwide and infected thousands.

Today's Top News
Top China News

WHO: SARS outbreak in China no major threat




21 laws, regulations take effect




Law to imrove road situation




Chinese premier sets for Europe visit




NBA legend Michael Jordan to visit China




Russia to decide on oil pipeline by year-end