PLA Navy task group visits in Hong Kong
(Xinhua)
Updated: 2004-04-30 16:57
A navy task group of the Chinese People's Liberation Army (PLA) arrived in Hong Kong Friday for a six-day stopover as part of celebrations marking the 55th anniversary of the founding of the Navy.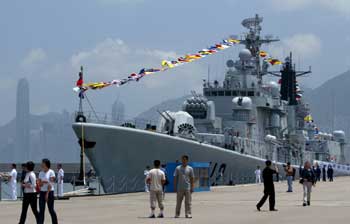 A Chinese naval guided missile destroyer docks at the Ngong Shuen Chau Naval Base in Hong Kong April 30, 2004. The PLA Navy task group is visiting Hong Kong for a six-day stopover.[Reuters]

The task group comprises eight vessels including two guided missile destroyers, four guided missile frigates and two submarines.

The Hong Kong Special Administrative Region (SAR) government held a grand welcoming ceremony Friday noon for the task group at the Ngong Shuen Chau Naval Base.

Chief Executive Tung Chee-hwa said at the ceremony that the warships of the task group are to open to visitors during their stay and Hong Kong people will "have a good chance to comprehend our navy's modernization process and cultivate passion for the motherland."

Tung said that over the past seven years since Hong Kong returned to the motherland, the garrison of the People's Liberation Army has provided great support to Hong Kong's development, which is hailed by Hong Kong residents.

"The SAR government will as in the past fully support the garrison in accomplishing its task in Hong Kong by the Basic Law and the garrison Law," said Tung.

Lieut. Gen. Yao Xingyuan, commander of the task group, said the task group's stopover will help Hong Kong compatriots to know more about the navy of the PLA and to witness the great achievement of the country and its army.

Gao Siren, director of the Liaison Office of the Central People's Government in SAR; Yang Wenchang, commissioner of the Ministry of Foreign Affairs of China in SAR; Lieut. Gen. Ou Jingu, vice commander of PLA Guangzhou Military Area Command; Maj. Gen. Wang Jitang, commander of the PLA HK Garrison; Maj. Gen. Liu Liangkai, political commissar of the PLA HK Garrison also attended the welcoming ceremony.

The task group is to leave here on May 5.
Today's Top News
Top China News

Banks urged to rein in loans for overheated sectors




Economy to grow 9% in first half year




Official given jail term for taking bribe




Coal mine explosion kills 34 in Shanxi




Deal may be set to end Fallujah siege




SARS patients in Beijing, Anhui are recovering