US troops begin pulling out of Fallujah
(Agencies)
Updated: 2004-04-30 16:18
U.S. Marines have started withdrawing from the southeastern part of Falluja which they have occupied for the last three weeks while Iraqi police have been deployed in some areas inside the city.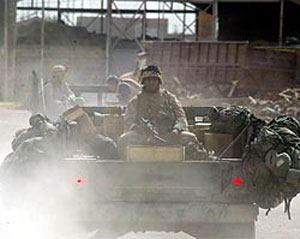 Marines' withdrawal to make way for political settlement. [AP]


The 1st Battalion, 5th Marines Regiment began to leave frontline bases in the abandoned factories and garages of Falluja's southern industrial zone, witnesses said.

Occuaption troops also moved out of areas in the western part of the city.

Only 70 to 80 Marines remained at an abandoned soda factory that had served as the battalion's centre for operations inside the city and they were expected to move later in the day to a base outside Falluja.

The city has been the scene of the most violent clashes during April with scores of U.S. soldiers and hundreds of Iraqi civilians and fighters killed.

The withdrawal follows a push for a political settlement in the city and troops on Friday were seen taking down barbed wire and defences while tanks left the area.

U.S. troops have been frustrated in their attempts to overcome a highly motivated and increasingly resourceful resistance force.

Responsibility

A U.S. occupation military commander told reporters on Thursday that responsibility for security would be handed to an Iraqi security force headed by a former general from Saddam Hussein's army.

Marines would then pull out from the northern perimeter of the city, which has been rocked by the worst fighting since 5 April, Lieutenant Colonel Brennan Byrne told reporters.

The plan was made after Lieutenant General James Conway, who commands the 1st Marine Expeditionary Force, held closed-door talks with a group of Iraqis.

A much-abused ceasefire in Falluja was announced earlier this month, but occupation forces pounded parts of the city from the air on Thursday even as talks proceeded.

U.S. military officials have said their negotiations with leaders in Falluja would lead to the deployment of more Iraqi forces in the city.

But they have denied the troop withdrawal spelt an end to the siege of Falluja, which began after four U.S. contractors working for the occupation forces were killed and two were then publicly mutilated.
Today's Top News
Top World News

Wen's top challenge is development deckhead




US troops begin pulling out of Fallujah




SARS patients in Beijing, Anhui are recovering




Consumers angry over bank card tricks




Holiday to see 90m travellers




Photos show US soldiers tortured Iraqis