Holiday to see 90m travellers
(China Daily)
Updated: 2004-04-29 21:54
More than 90 million tourists were expected to travel during the seven-day holiday that starts on May 1.
Tourism related industries expected to reap some 35 billion yuan (US$4.2 billion) from countrywide travel, said Zhang Xiqin, the deputy director with China's National Tourism Administration (CNTA).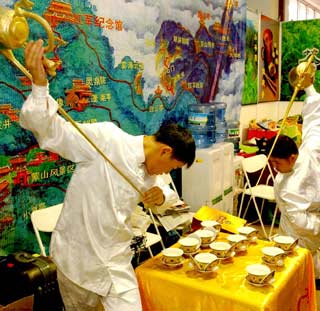 Two tourism workers from Ya'an of Sichuan Province, Southwest China, demonstrate their skills in serving tea at the Ningbo International Tea Culture Festival in Zhejiang Province in East China April 29, 2004. The festival in Ningbo will last through May 3. Various activities will be promoted during the coming week-long May Day holiday across the nation as millions embarking on trips. [newsphoto]
However, the optimistic forecast was made before nine confirmed and suspected SARS cases were reported in Beijing and Anhui Province in the last week.
To ensure both domestic and overseas tourists enjoy a pleasurable May Day break, Zhu Qingsheng, Vice health Minister said earlier this week that China is doing all it can to contain the disease.
"Local authorities have been told to take appropriate measures to prevent possible virus transmissions and make the May Day holiday as safe as possible," Zhu told a news conference in Malaysia.
"Airports and ports are also taking measures to ensure things go smoothly," he said.
Railway stations and airports have been ordered to check the temperatures of all passengers from Beijing and Anhui.
Zhong Nanshan, director of the Guangzhou Institute of Respiratory Diseases, told local media on Wednesday that travelers do not need to worry.
Meanwhile, many citizens interviewed stayed calm and expressed the odd SARS case will not spoil eagerly anticipated travel.
Ji Lingling, a Beijing resident who plans to go to Qinhuangdao, a coastal city in North China's Hebei Province, said the situation is completely different from last Spring.
"Instead of worrying about the SARS outbreak, I am wondering if there are too big throngs at visitor hot spots," said the 24-year-old girl.
Another example can be found in Hong Kong.
After learning of a few SARS cases in the mainland, most Hong Kong visitors who had planned to tour Beijing stuck by those plans, said sources with the Travel Industry Council of Hong Kong.
Only a small number cancelled their visits, said the sources.
Air carriers and railways will add more flights and trains to ease the transportation.
According to the General Administration of Civil Aviation of China, the upcoming week will see about 2.3 million passengers travelling by air, or 17.8 per cent over the May Day holiday in 2002.
Nine air companies will add a total of 2,550 flights during the seven-day Labour Day holiday.
Railways will launch 122 sets of non-stop express trains over the seven days.
The new express trains, to be marked with Z on the schedule, will run from their departure stations to their final destinations without stopping en route.
Earlier this month, the railway network was accelerated for the fifth time.
Both departments pledged to strengthen safety management.
Other relevant departments such as food, health, security and meteorology as well as scenic spots will also do their utmost to ensure travelers a safe, healthy, orderly and high-qualified holiday.
Experts said some new travelling styles, like do-it-yourself and car travel, will be hot this holiday and traditional travelling concepts have been replaced by new ones.
Rather than join a travel agency and snatch a transient glance at each scenic spot, many people, especially youngsters, design travel routes on their own.
Cong Fangyuan, a young computer company employee from Beijing, is one of those doing who designed his own tour.
"I acquired the information about the scenic spots from a journey website, and then I began to plan with several friends," said Cong.
He said he didn't go through a travel agency because it always confines visitors a lot, besides most travel agencies are not likely to organize hiking or mountain-climbing trips at the city's suburbs which is what young people like him are longing for.
Road trips are also a novel touring style cherished by those who own a car.
Teng Xuefei, from Chengdu, Southwest China's Sichuan Province, said she loved the freedom and comfort of driving her own car to go sightseeing.
"Furthermore, I can reach some undeveloped areas where the traditional travel agencies and other tourists cannot approach," she said.
Some people even go hiking during the holiday with the aim of keeping fit and the number of people travelling abroad is also on the rise, experts said.
Today's Top News
Top China News

Holiday to see 90m travellers




Coal mine explosion kills 34 in Shanxi




Deal may be set to end Fallujah siege




SARS patients in Beijing, Anhui are recovering




Consumers angry over bank card tricks




Photos show US soldiers tortured Iraqis