'Killer' milk victims claim 300,000 yuan
(Shenzhen Daily)
Updated: 2004-04-29 09:42
The family of a victim of the poor quality milk formula claimed compensation of 300,000 yuan (US$36,000) from a Guangzhou store Wednesday.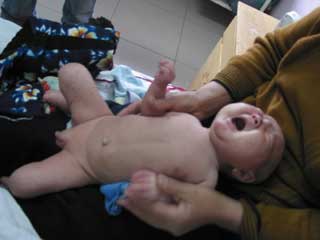 A baby suffers from the malnutrition after eatting the fake milk powder. [newsphopto]

The claim followed an investigation which showed that formula sold by the store and produced in Heilongjiang had resulted in the malnutrition of the Guangzhou infant.

The investigation was conducted by experts organized by the provincial public health department after Guangdong media reported the infantí»s story.

The probe result was announced Tuesday.

The Qimei brand milk powder had only 1.25 grams of protein per 100 grams of powder, the investigation showed.

The standard was far below the criteria contained on the formula package: 10-15 grams of protein per 100 grams of powder. The national standard is 10-20 grams of protein per 100 grams of powder.

The six-month-old infant has been suffering from a skin infection and dropsy since the age of two months because of malnutrition, a previous report said.

He had been fed more than 30 bags of the poor quality formula and was in stable condition in hospital.

After hearing the investigation result, the infant's father said they regretted buying the cheaper powder.

The family bought the powder for less than eight yuan a bag from a nearby store.

The family called the manufacturer using the number on the package but found it did not exist.

Since they were unable to trace the producer, the family's lawyer said they could sue the store where they bought the milk powder.

The lawyer said the compensation claimed was reasonable, considering the economic and personal losses the family had suffered.

The formula invoices, the milk powder found at the store, and the investigation results announced by the provincial health department, could be strong evidence for the family, the lawyer said.
Today's Top News
Top Life News

New suspected SARS case; lab visitors warned




Illegal land use sinks iron project




112 die in Thailand's quash of militants




Senator brands Cheney 'lead chickenhawk'




Reform on officials' car use in the offing




New Oriental language school set to appeal